Kakatiya University: Statistics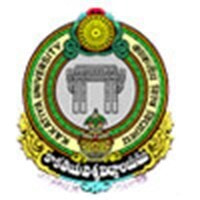 Quick Review
Acceptance rate

15%

Enrollment

5,500

Type

Non-profit

Funding

Public-private
partnership

Highest Degree

Doctorate

Website

Languages

English;Telugu;Urdu
Acceptance rate & Admissions
| | |
| --- | --- |
| Acceptance Rate | 15% |
| Admissions Requirements | 12th year senior secondary/intermediate examination or recognized foreign equivalent |
| Academic Calendar | July to April (July - December; January-April) |
| Enrollment | 5,500 |
| Full time employee | 550 |
| Student:staff ratio | 10:1 |
Tuition
| | Undergraduate | Graduate |
| --- | --- | --- |
| Local students | $500 | $1,750 |
| International students | $1,750 | $3,750 |
Kakatiya University has financial aid programs.
Programs and Degrees
Programs

Associate's degree

Bachelor's

Master's

Doctoral

Design

|

Arts

|

Humanities
–
+
+
+
Business

|

Politics

|

Social Sciences
–
+
+
+
Languages

|

Culture

|

Linguistics
–
+
+
+
Nursing

|

Health

|

Pharmacy

|

Medicine
–
–
–
–
Engineering

|

IT
–
+
+
+
Maths

|

Natural Sciences
+
+
+
+
| | |
| --- | --- |
| Bachelor's Degree | Business and Commerce, Business and Commerce, Education, Fine Arts, Information Sciences, Law, Library Science, Management, Natural Sciences, Oriental Studies, Pharmacy, Technology |
| Master's Degree | Accountancy, Business Administration, Business and Commerce, Education, Finance, Fine Arts, Law, Natural Sciences, Pharmacy, Technology |
Notable alumni
T. Harish Rao

Born in

India

Years

1972-.. (age 50)

Biography

Thaneeru Harish Rao is an Indian politician serving as the current Minister for Finance of Telangana since September 2019. He is MLA from Siddipet constituency from the Telangana Rashtra Samithi party since 2004.

S. Madhusudhana Chary

Born in

India

Years

1962-.. (age 60)

Biography

Sirikonda Madusudhana Chary is an Indian politician who served as the 1st Speaker of Telangana Legislative Assembly from 9 June 2014 to 16 January 2019. He won from Bhupalapalli constituency in Warangal in 2014 general elections. He is the former MLA of Bhupalapalli Constuency from 2018 Assembly Elections. He belongs to Telangana Rashtra Samithi and is a member of its Politburo. He lost the Telangana Legislative Assembly election held in December 2018.

Vinod Kumar Boianapalli

Born in

India

Years

1959-.. (age 63)

Biography

Boianapalli Vinod Kumar is an Indian politician, advocate and Ex Member of Parliament. He represents the Karimnagar constituency of Telangana State and previously represented Hanamkonda in the 14th Lok Sabha (2004-2009). He is one of the founding members of the Telangana Rashtra Samithi (TRS) party and is presently a politburo member and the party's deputy Floor Leader in the Lok Sabha. present he is vice chairman of planning commission for telangana.

Mamidi Harikrishna

Biography

Mamidi Harikrishna is a Telugu poet, illustrator, translator, documentary filmmaker, movie critic and Historian on Telangana state history and Films. He is currently the director of Language and Culture department of the Telangana government.
General info
Alternative names
KU
काकतीय विश्वविद्यालय
Founded
1976
Accreditation
University Grants Commission (UGC); National Assessment and Accreditation Council (NAAC)
Motto
Marching towards academic excellence
Academic structure
Faculty of Arts
Faculty of Commerce and Business Administration
Faculty of Education
Faculty of Engineering
Faculty of Law
Faculty of Pharmacy
Faculty of Science
Faculty of Social Sciences
Affiliations and memberships
Association of Commonwealth Universities (ACU)
Association of Indian Universities (AIU)
Distance Education Bureau (DEB)
Location and Contacts
Address
Vidyaranyapuri
Warangal, Telangana, 506 009
India
City population
705,000
Phone
+91 (870) 243 9966
Fax
+91 (870) 243 8800