National University, Indonesia: Statistics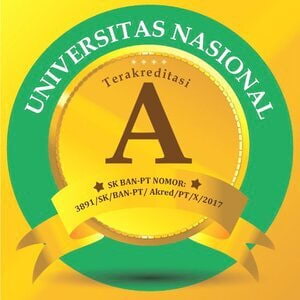 Quick Review
Acceptance rate

85%

Enrollment

7,500

Type

Non-profit

Funding

Private

Website

Languages

Indonesian;English
Acceptance rate & Admissions
| | |
| --- | --- |
| Acceptance Rate | 85% |
| Admissions Requirements | Secondary school certificate (Sekolah Menengah Atas, SMA) or equivalent |
| Academic Calendar | September to August (September - March; March-August) |
| Enrollment | 7,500 |
| Full time employee | 350 |
| Student:staff ratio | 21:1 |
Publications & Citations
National University, Indonesia majors
by publication & citation count
Annual publication & citation counts
| Year | Publications | Citations |
| --- | --- | --- |
| 1991 | 1 | 9 |
| 1992 | 0 | 17 |
| 1993 | 0 | 11 |
| 1994 | 1 | 9 |
| 1995 | 2 | 18 |
| 1996 | 0 | 9 |
| 1997 | 2 | 15 |
| 1998 | 0 | 26 |
| 1999 | 0 | 27 |
| 2000 | 1 | 17 |
| 2001 | 1 | 26 |
| 2002 | 2 | 54 |
| 2003 | 2 | 42 |
| 2004 | 1 | 121 |
| 2005 | 1 | 64 |
| 2006 | 3 | 106 |
| 2007 | 3 | 122 |
| 2008 | 4 | 169 |
| 2009 | 13 | 202 |
| 2010 | 9 | 253 |
| 2011 | 15 | 210 |
| 2012 | 24 | 360 |
| 2013 | 19 | 312 |
| 2014 | 12 | 265 |
| 2015 | 38 | 324 |
| 2016 | 33 | 333 |
| 2017 | 106 | 309 |
| 2018 | 173 | 316 |
| 2019 | 208 | 760 |
| 2020 | 556 | 663 |
| 2021 | 481 | 774 |
Tuition
| | Undergraduate | Graduate |
| --- | --- | --- |
| Local students | $1,750 | $3,750 |
| International students | $3,750 | $6,250 |
Programs and Degrees
| | |
| --- | --- |
| Magister | Biology, Law, Management, Political Sciences, Public Administration |
| Doktor | Political Sciences |
Notable alumni
Saifullah Yusuf

Born in

Indonesia

Years

1964-.. (age 58)

Biography

H. Saifullah Yusuf, better known by his nickname Gus Ipul, is an Indonesian politician and former Vice Governor of East Java.

Chusnunia Chalim

Born in

Indonesia

Years

1982-.. (age 40)

Biography

Chusnunia Chalim is an Indonesian politician who is the Vice governor of Lampung. She was the regent of East Lampung Regency, and is the first woman to hold the office. She was also a member of the People's Representative Council's delegation to the ASEAN Inter-Parliamentary Assembly in 2012.

Agus Suparmanto

Born in

Indonesia

Years

1965-.. (age 57)

Occupations

entrepreneur

politician

Biography

Agus Suparmanto is an Indonesian politician. He served as Minister of Trade in the 41st Cabinet of Indonesia from 23 October 2019 to 23 December 2020. He is affiliated with the National Awakening Party.

Cok Istri Agung Sanistyarani

Biography

Cok Istri Agung Sanistyarani is an Indonesian karateka. She won the gold medal in the women's kumite 61 kg event at the 2017 Southeast Asian Games held in Kuala Lumpur, Malaysia. She won one of the bronze medals in the women's kumite 55 kg event at the 2018 Asian Games held in Jakarta, Indonesia. She also won multiple medals at both the Islamic Solidarity Games and the Asian Karate Championships.
General info
Alternative names
UNAS
Universitas Nasional
Founded
1949
Accreditation
National Accreditation Agency for Higher Education (BAN-PT)
Motto
Perintis Perubahan
Pioneering Transformation
Colors
green
Location and Contacts
Address
Jalan Sawo Manila, Pejaten, Pasar Minggu
Jakarta, Jakarta SCR, 12520
Indonesia
City population
10,562,000
Phone
+62 (21) 780 6700
Fax
+62 (21) 780 2718