Nebraska Methodist College of Nursing & Allied Health Rankings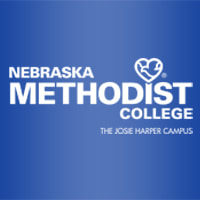 Quick Review
Religion

United Methodist

Acceptance rate

97%

Undergraduates

766

Graduates

362

Male:Female Ratio

10:90

Control

Private
not-for-profit

Highest Degree

Doctor's degree

Website
Nebraska Methodist College of Nursing & Allied Health Acceptance rate and Admissions statistics
| | Total | Men | Women |
| --- | --- | --- | --- |
| Acceptance Rate | 97% | 100% | 97% |
| Applicants | 78 | 3 | 75 |
| Admissions | 76 | 3 | 73 |
| Freshmen enrolled full time | 41 | 2 | 39 |
| Freshmen enrolled part time | 7 | | 7 |
295 students enrolled in some distance education courses.
401 enrolled exclusively in distance education.
ACT scores
Among admitted applicants
44 or 92%
submitted ACT
25% of them
had 20
or below
75% of them
had 24
or below
Typical ACT scores of first-years in Nebraska Methodist College of Nursing & Allied Health are 20-24 (middle 50% range).
Admissions requirements
| | |
| --- | --- |
| SAT/ACT | Required |
| Secondary school GPA | Required |
| Secondary school record | Required |
| TOEFL | Required |
| College-preparatory program | Recommended |
| Formal demonstration of competencies | Neither required nor recommended |
| Other Tests | Neither required nor recommended |
| Recommendations | Neither required nor recommended |
| Secondary school rank | Neither required nor recommended |
Enrollment by race or ethnicity
| | |
| --- | --- |
| White | 913 (81%) |
| Black or African American | 59 (5%) |
| Hispanic | 58 (5%) |
| Race or Ethnicity unknown | 35 (3%) |
| Two or more races | 30 (3%) |
| Asian | 23 (2%) |
| Native Hawaiian or other Pacific Islander | 3 (0.3%) |
| Nonresident Alien | 2 (0.2%) |
| American Indian or Alaska Native | 2 (0.2%) |
Costs per year: Tuition, Housing, Fees
Average costs by household income
| | |
| --- | --- |
| <$30K | $21,026 |
| $30-48K | $21,126 |
| $48-75K | $25,395 |
| $75-110K | $27,016 |
| $110K+ | $26,706 |
Tuition and fees
| | Undergraduates | Graduates |
| --- | --- | --- |
| Tuition in-district | $15,422 | $11,955 |
| Tuition in-state | $15,422 | $11,955 |
| Tuition out-of-state | $15,422 | $11,955 |
| Fee in-district | $335 | $150 |
| Fee in-state | $335 | $150 |
| Fee out-of-state | $335 | $150 |
Room and board price
| | |
| --- | --- |
| Dormitory capacity | 100 |
| Room charge | $6,885 |
Nebraska Methodist College of Nursing & Allied Health Majors
| Major | Associate's degree | Bachelor's | Master's | Doctoral |
| --- | --- | --- | --- | --- |
| Registered Nursing & Registered Nurse | | 166 | | |
| Radiologic Technology & Science - Radiographer | 21 | 7 | | |
| Occupational Therapy & Therapist | | | 23 | |
| Nursing Administration | | | 19 | |
| Nursing Education | | | 19 | |
| Public Health Education and Promotion | | | 13 | |
| Diagnostic Medical Sonography & Sonographer and Ultrasound Technician | 11 | 1 | | |
| Surgical Technology & Technologist | 12 | | | |
| Respiratory Care Therapy & Therapist | 10 | 1 | | |
| Health & Health Care Administration & Management | | 3 | 8 | |
| Physical Therapy Technician & Assistant | 9 | | | |
| Nursing Practice | | | | 9 |
| Registered Nursing, Nursing Administration, Nursing Research and Clinical Nursin | | | 6 | |
| Health Services & Allied Health & Health Sciences, General | | 2 | | |
| Grand Total | 63 | 180 | 88 | 9 |
Total
Women
Graduation rate
69%
77%

Full-time retention rate - 68%
Part-time retention rate - 100%
Publications & Citations
Publication count by topic
| | |
| --- | --- |
| Medicine | |
| Psychology | |
| Sociology | |
| Political science | |
Topical rankings by citation count
| Discipline | World Rank | Citations |
| --- | --- | --- |
| Sociology | 3861 | 22 |
| Psychology | 4090 | 167 |
| Medicine | 4467 | 180 |
| Political science | 4730 | 4 |
Annual publication & citation counts
| Year | Publications | Citations |
| --- | --- | --- |
| 1995 | 0 | 1 |
| 1996 | 0 | 0 |
| 1997 | 1 | 0 |
| 1998 | 3 | 1 |
| 1999 | 0 | 0 |
| 2000 | 0 | 2 |
| 2001 | 1 | 3 |
| 2002 | 4 | 6 |
| 2003 | 1 | 3 |
| 2004 | 2 | 6 |
| 2005 | 1 | 5 |
| 2006 | 2 | 5 |
| 2007 | 2 | 8 |
| 2008 | 1 | 7 |
| 2009 | 3 | 13 |
| 2010 | 0 | 23 |
| 2011 | 2 | 32 |
| 2012 | 0 | 30 |
| 2013 | 2 | 47 |
| 2014 | 2 | 23 |
| 2015 | 0 | 41 |
| 2016 | 2 | 28 |
| 2017 | 0 | 30 |
| 2018 | 1 | 16 |
| 2019 | 2 | 17 |
| 2020 | 4 | 25 |
General info
| | |
| --- | --- |
| Alternative names | Nebraska Methodist College |
| Founded | 1891 |
| Wikipedia | Nebraska Methodist College |
| Academic Calendar | Semesters |
| Total FTE staff | 138 |
| Carnegie Classification | Special Focus Four-Year: Other Health Professions Schools |
Location and Contacts
Address
720 North 87th Street
Omaha, Nebraska, 68114-2852
United States
City population
467,000
Phone
4023547000
Fax
+1 (402) 354 7020