University of Medicine and Pharmacy, Cluj-Napoca: Statistics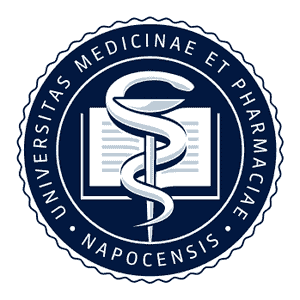 Quick Review
Enrollment

8,500

Type

Non-profit

Funding

Public-private
partnership

Highest Degree

Doctorate

Website

Languages

Romanian;English;French

Acceptance rate

74%*
* The University of Medicine and Pharmacy, Cluj-Napoca is among the institutions that don't provide data on acceptance rates. This might happen because a university has programs where an applicant only needs to meet admission requirements to enroll and doesn't necessarily competes with others.
We estimate the above acceptance rate based on admission statistics of closely-ranked nearby universities with similar research profiles that do publish such data.
Acceptance rate & Admissions
| | |
| --- | --- |
| Admissions Requirements | Secondary school certificate (Bacalaureat) or recognized equivalent; Entrance examination |
| Academic Calendar | October to July (October - February; February-July) |
| Enrollment | 8,500 |
| Full time employee | 850 |
| Student:staff ratio | 10:1 |
Tuition
| | Undergraduate | Graduate |
| --- | --- | --- |
| Local students | $1,750 | $3,750 |
| International students | $6,250 | $3,750 |
The University of Medicine and Pharmacy, Cluj-Napoca has financial aid programs and on-campus housing.
Programs and Degrees
Programs

Associate's degree

Bachelor's

Master's

Doctoral

Design

|

Arts

|

Humanities
–
–
–
–
Business

|

Politics

|

Social Sciences
–
–
–
–
Languages

|

Culture

|

Linguistics
–
–
–
–
Nursing

|

Health

|

Pharmacy

|

Medicine
–
+
+
+
Engineering

|

IT
–
–
–
–
Maths

|

Natural Sciences
–
–
–
–
| | |
| --- | --- |
| Diploma de Licenţă | Dental Technology, Dentistry, Medicine, Nursing, Radiology, Rehabilitation and Therapy |
| Diplomă de Master | Dietetics, Forensic Medicine and Dentistry, Health Administration, Medicine, Nursing, Nutrition, Pharmacy, Rehabilitation and Therapy, Toxicology |
| Diplomă de Doctor | Dentistry, Medicine, Pharmacy |
Notable alumni
Raed Arafat

Born in

Syria

Years

1964-.. (age 58)

Occupations

physician

politician

Biography

Raed Arafat is a Syrian-born Romanian intensive care physician of Palestinian origin, specialised in anesthesiology. He founded the Mobile Emergency Service for Resuscitation and Extrication (SMURD) with the help from the Romanian Fire Fighting Brigade represented by Lt.-Col Mircea Pintilie. He was also the coordinator of Mureș County Emergency Services until 23 August 2007, when he was invited to take the position of Undersecretary of State at the Ministry of Health to deal with the development of emergency medical care in Romania. He was also, for a short period, the Minister of Health (7 November-21 December 2012), serving many years as Under-Secretary of State for Health in the Romanian Government. He accepted the position of Minister of Health just as a temporary position after which he was nominated as State Secretary at the Ministry of Health until 28 January 2014 when he accepted to move as Secretary of State at the Ministry of Internal Affairs to head the newly created Department for Emergency Situations under which all emergency services are coordinated including fire and rescue, civil protection, prehospital medical emergency response, air rescue and emergency departments. He is still serving at the Ministry of Internal Affairs in this position.

Sergiu Pasca

Born in

Romania

Years

1982-.. (age 40)

Enrolled in the University of Medicine and Pharmacy, Cluj-Napoca

Studied in 2007

Occupations

assistant professor

neuroscientist

Biography

Sergiu P. Pașca is a Romanian-American scientist and physician at Stanford University in California. Pașca is a faculty member in the Department of Psychiatry and Behavioral Sciences at Stanford University and the Uytengsu Family Director of Stanford Brain Organogenesis, a neuroscientist and stem cell biologist and currently a NYSCF Robertson Investigator. He is part of the Stanford Neurosciences Institute, Stanford Bio-X and a fellow of the ChEM-H Institute at Stanford. Pașca was listed among New York Times Visionaries in Medicine and Sciences, and he is the recipient of the 2018 Vilcek Award for Creative Biomedical Promise from the Vlicek Foundation.

Laura Poantă

Born in

Romania

Years

1971-.. (age 51)

Occupations

linguist

painter

translator

Biography

Laura Poantă is a Romanian physician, medical scientist, author, translator, and painter.
General info
Alternative names
UMF
Universitatea de Medicina si Farmacie Iuliu Hatieganu din Cluj
Founded
1919
Accreditation
Ministry of Education and Research
Motto
Medicina este stiinta si constiinta incalzita de iubirea de oameni
In medicine, science and consciousness are nurtured by love for people
Academic structure
Faculty of Medicine
Faculty of Dental Medicine
Faculty of Pharmacy
Doctoral School
Affiliations and memberships
Agence Universitaire de la Francophonie (AUF)
European Association of Faculties of Pharmacy (EAFP)
Association for Dental Education in Europe
Location and Contacts
Address
Str. Victor Babes Nr. 8
Cluj-Napoca, Cluj, 400012
Romania
City population
325,000
Phone
+40 (264) 597 256
Fax
+40 (264) 597 257