Indian Statistical Institute: Statistics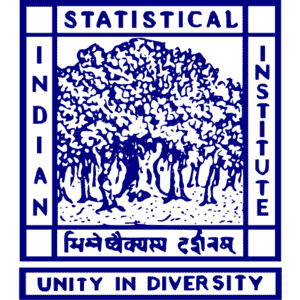 Quick Review
Enrollment

375

Type

Non-profit

Funding

Public-private
partnership

Highest Degree

Doctorate

Website

www.isical.ac.in

Languages

English

Acceptance rate

36%*
* Indian Statistical Institute is among the institutions that don't provide data on acceptance rates. This might happen because a university has programs where an applicant only needs to meet admission requirements to enroll and doesn't necessarily competes with others.
We estimate the above acceptance rate based on admission statistics of closely-ranked nearby universities with similar research profiles that do publish such data.
Acceptance rate & Admissions
| | |
| --- | --- |
| Admissions Requirements | 12th year senior secondary/intermediate examination or recognized foreign equivalent |
| Academic Calendar | July - June |
| Enrollment | 375 |
Tuition
Indian Statistical Institute has financial aid programs and on-campus housing.
Programs and Degrees
Programs

Associate's degree

Bachelor's

Master's

Doctoral

Design

|

Arts

|

Humanities
–
–
–
–
Business

|

Politics

|

Social Sciences
–
–
+
–
Languages

|

Culture

|

Linguistics
–
–
–
–
Nursing

|

Health

|

Pharmacy

|

Medicine
–
–
–
–
Engineering

|

IT
–
–
–
–
Maths

|

Natural Sciences
–
+
+
+
| | |
| --- | --- |
| Bachelor's Degree | Mathematics, Statistics |
| Master's Degree | Computer Science, Economics, Information Sciences, Library Science, Mathematics, Operations Research, Statistics |
| Doctor of Philosophy | Computer Science, Economics, Mathematics, Statistics |
Indian Statistical Institute alumni
Subramanian Swamy

Born in

India

Years

1939-.. (age 83)

Occupations

economist

politician

author

Biography

Subramanian Swamy is an Indian politician, economist and statistician, who serves as a nominated Member of Parliament in Rajya Sabha, the upper house of the Indian Parliament. Before joining politics, he was a professor of Mathematical Economics at the Indian Institute of Technology, Delhi. He is known for his Hindu nationalist views. Swamy was a member of the Planning Commission of India and was a Cabinet Minister in the Chandra Shekhar government. Between 1994 and 1996, Swamy was Chairman of the Commission on Labour Standards and International Trade under former Prime Minister P. V. Narasimha Rao. Swamy was a long-time member of the Janata Party, serving as its president until 2013 when he joined the Bharatiya Janata Party (BJP). He has written on foreign affairs of India dealing largely with China, Pakistan and Israel. He was nominated to Rajya Sabha on 26 April 2016.

Calyampudi Radhakrishna Rao

Born in

India

Years

1920-.. (age 102)

Occupations

mathematician

statistician

university teacher

Biography

Calyampudi Radhakrishna Rao FRS known as C. R. Rao is an Indian-American mathematician and statistician. He is currently professor emeritus at Pennsylvania State University and Research Professor at the University at Buffalo. Rao has been honoured by numerous colloquia, honorary degrees, and festschrifts and was awarded the US National Medal of Science in 2002. The American Statistical Association has described him as "a living legend whose work has influenced not just statistics, but has had far reaching implications for fields as varied as economics, genetics, anthropology, geology, national planning, demography, biometry, and medicine." The Times of India listed Rao as one of the top 10 Indian scientists of all time. Rao is also a Senior Policy and Statistics advisor for the Indian Heart Association non-profit focused on raising South Asian cardiovascular disease awareness.

Sathamangalam Ranga Iyengar Srinivasa Varadhan

Born in

India

Years

1940-.. (age 82)

Occupations

mathematician

university teacher

statistician

Biography

Sathamangalam Ranga Iyengar Srinivasa Varadhan FRS is an Indian American mathematician who is known for his fundamental contributions to probability theory and in particular for creating a unified theory of large deviations.

Neena Gupta

Occupations

mathematician

Biography

Neena Gupta is a professor at the Statistics and Mathematics Unit of the Indian Statistical Institute (ISI), Kolkata. Her primary fields of interest are commutative algebra and affine algebraic geometry.
General info
Alternative names
ISI
भारतीय सांख्यिकी संस्थान
Founded
1931
Accreditation
Department of Higher Education, Ministry of Human Resource Development (MHRD); Ministry of Statistics and Programme Implementation
Motto
Unity in Diversity
Affiliations and memberships
Association of Indian Universities (AIU)
Location and Contacts
Address
203 Barrackpore Trunk Road, Baranagar
Kolkata, West Bengal, 700 108
India
City population
4,497,000
Phone
+91 (33) 2575 2500
Fax
+91 (33) 2577 6037