Jadavpur University: Statistics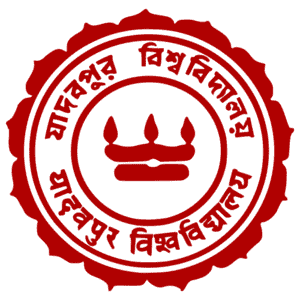 Quick Review
Enrollment

12,500

Type

Non-profit

Funding

Public-private
partnership

Highest Degree

Bachelor

Website

Languages

English;Bengali

Acceptance rate

36%*
* Jadavpur University is among the institutions that don't provide data on acceptance rates. This might happen because a university has programs where an applicant only needs to meet admission requirements to enroll and doesn't necessarily competes with others.
We estimate the above acceptance rate based on admission statistics of closely-ranked nearby universities with similar research profiles that do publish such data.
Acceptance rate & Admissions
| | |
| --- | --- |
| Admissions Requirements | 12th year senior secondary/intermediate examination or recognized foreign equivalent |
| Academic Calendar | July to July |
| Enrollment | 12,500 |
Tuition
Jadavpur University has on-campus housing.
Programs and Degrees
Programs

Associate's degree

Bachelor's

Master's

Doctoral

Design

|

Arts

|

Humanities
–
+
–
–
Business

|

Politics

|

Social Sciences
–
+
–
–
Languages

|

Culture

|

Linguistics
–
–
–
–
Nursing

|

Health

|

Pharmacy

|

Medicine
–
+
–
–
Engineering

|

IT
–
+
–
–
Maths

|

Natural Sciences
–
+
–
–
| | |
| --- | --- |
| Bachelor's Degree | Chemical Engineering, Chemistry, Civil Engineering, Comparative Literature, Computer Science, Construction Engineering, Economics, Electrical Engineering, English, Environmental Engineering, Geology, Indic Languages, Information Sciences, Information Technology, Instrument Making, International Relations and Diplomacy, Library Science, Mathematics, Mechanical Engineering, Metallurgical Engineering, Pharmacy, Philosophy, Physical Education, Physics, Political Sciences, Power Engineering, Printing and Printmaking, Production Engineering, Sanskrit, Sociology, Structural Architecture, Women's Studies |
| Master's Degree | Chemical Engineering, Chemistry, Civil Engineering, Comparative Literature, Computer Science, Construction Engineering, Economics, Electrical Engineering, English, Environmental Engineering, Geology, Indic Languages, Information Sciences, Information Technology, Instrument Making, International Relations and Diplomacy, Library Science, Mathematics, Mechanical Engineering, Metallurgical Engineering, Pharmacy, Philosophy, Physical Education, Physics, Political Sciences, Power Engineering, Printing and Printmaking, Production Engineering, Sanskrit, Sociology, Structural Architecture, Women's Studies |
| Doctor of Philosophy | Chemical Engineering, Chemistry, Civil Engineering, Comparative Literature, Computer Engineering, Computer Science, Construction Engineering, Economics, Electrical Engineering, English, Environmental Engineering, Geology, Indic Languages, Information Sciences, Information Technology, Instrument Making, International Relations and Diplomacy, Library Science, Mathematics, Mechanical Engineering, Metallurgical Engineering, Pharmacy, Philosophy, Physical Education, Physics, Political Sciences, Power Engineering, Printing and Printmaking, Production Engineering, Sanskrit, Sociology, Structural Architecture, Women's Studies |
Jadavpur University alumni
General info
Alternative names
JU
जाधवपुर विश्वविद्यालय
Founded
1955
Accreditation
University Grants Commission (UGC); National Assessment and Accreditation Council (NAAC)
Motto
To Know Is To Grow
Academic structure
Faculty of Arts
Faculty of Engineering and Technology
Faculty of Science
Affiliations and memberships
Association of Indian Universities (AIU)
Distance Education Bureau (DEB)
Location and Contacts
Address
188, Raja S.C. Mallick Road
Kolkata, West Bengal, 700 032
India
City population
4,497,000
Phone
+91 (33) 2414 6000
Fax
+91 (33) 2413 7121