Kongju National University: Statistics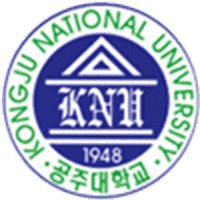 Quick Review
Enrollment

22,000

Type

Non-profit

Funding

Public-private
partnership

Website

www.kongju.ac.kr

Languages

Korean

Acceptance rate

39%*
* Kongju National University is among the institutions that don't provide data on acceptance rates. This might happen because a university has programs where an applicant only needs to meet admission requirements to enroll and doesn't necessarily competes with others.
We estimate the above acceptance rate based on admission statistics of closely-ranked nearby universities with similar research profiles that do publish such data.
Acceptance rate & Admissions
| | |
| --- | --- |
| Admissions Requirements | Graduation from high school or foreign equivalent, and entrance examination |
| Academic Calendar | March to February (March - August; September-February) |
| Enrollment | 22,000 |
| Full time employee | 692 |
| Student:staff ratio | 32:1 |
Tuition
Kongju National University has financial aid programs and on-campus housing.
Programs and Degrees
| | |
| --- | --- |
| Master's Degree | Agricultural Engineering, Animal Husbandry, Architecture, Automation and Control Engineering, Biology, Botany, Business Administration, Chemical Engineering, Chemistry, Chinese, Computer Engineering, Computer Graphics, Computer Science, Construction Engineering, Design, E- Business/Commerce, East Asian Studies, Education, Electrical Engineering, Electronic Engineering, English, Environmental Engineering, Environmental Studies, Ethics, Finance, Fine Arts, Food Science, Food Technology, Forestry, French, German, Handicrafts, Health Administration, Heritage Preservation, Horticulture, Hotel Management, Industrial Design, Industrial Engineering, Information Technology, International Business, Japanese, Korean, Laboratory Techniques, Landscape Architecture, Law, Literature, Materials Engineering, Mathematics, Mechanical Engineering, Medicine, Meteorology, Multimedia, Museum Studies, Music, Native Language Education, Nursing, Nutrition, Optical Technology, Oriental Studies, Physical Education, Physics, Preschool Education, Public Administration, Real Estate, Safety Engineering, Social and Community Services, Social Welfare, Software Engineering, Special Education, Sports, Structural Architecture, Telecommunications Engineering, Town Planning, Transport Engineering, Visual Arts |
| Doctor's Degree | Automation and Control Engineering, Chinese, Computer Education, Computer Graphics, Electrical Engineering, Electronic Engineering, English, Foreign Languages Education, German, Home Economics Education, Humanities and Social Science Education, Korean, Literature, Mathematics Education, Military Science, Museum Studies, Native Language Education, Preschool Education, Science Education, Software Engineering, Visual Arts |
Notable alumni
Cho Yoon-kyoung

Biography

Cho Yoon-Kyoung is an interdisciplinary researcher involved in basic science to translational research in microfluidics and nanomedicine. She is a group leader in the Center for Soft and Living Matter at the Institute for Basic Science and a full professor in Biomedical Engineering at the Ulsan National Institute of Science and Technology (UNIST), Ulsan, Korea. Cho is a member of the National Academy of Engineering of Korea (ko) and a Fellow of the Royal Society of Chemistry.
General info
| | |
| --- | --- |
| Alternative names | 공주대학교 |
| Founded | 1948 |
| Accreditation | Korean Council for University Education (KCUE) |
Location and Contacts
Address
182 Sinkwan-dong
Gong, South Chungcheong, 314-701
South Korea
City population
103,000
Phone
+82 (41) 850 8114
Fax
+82 (41) 853 3157