Madurai Kamaraj University: Statistics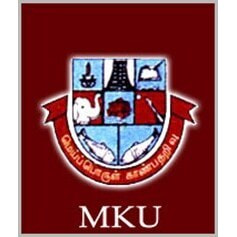 Quick Review
Type

Non-profit

Funding

Public-private
partnership

Highest Degree

Bachelor

Website

mkuniversity.ac.in

Languages

English;Tamil

Acceptance rate

42%*
* Madurai Kamaraj University is among the institutions that don't provide data on acceptance rates. This might happen because a university has programs where an applicant only needs to meet admission requirements to enroll and doesn't necessarily competes with others.
We estimate the above acceptance rate based on admission statistics of closely-ranked nearby universities with similar research profiles that do publish such data.
Acceptance rate & Admissions
| | |
| --- | --- |
| Admissions Requirements | 12th year senior secondary/intermediate examination or recognized foreign equivalent |
| Academic Calendar | July to March (July - October; December-March) |
| Full time employee | 950 |
Programs and Degrees
Programs

Associate's degree

Bachelor's

Master's

Doctoral

Design

|

Arts

|

Humanities
–
+
–
–
Business

|

Politics

|

Social Sciences
–
+
–
–
Languages

|

Culture

|

Linguistics
–
–
–
–
Nursing

|

Health

|

Pharmacy

|

Medicine
–
–
–
–
Engineering

|

IT
–
+
–
–
Maths

|

Natural Sciences
–
+
–
–
Notable alumni
Charle

Born in

India

Years

1960-.. (age 62)

Occupations

comedian

actor

Biography

Velmurugan Thangasamy Manohar, professionally credited as Charle, is an Indian actor who works in Tamil cinema. He has acted in more than 800 Tamil films as a comedian and supporting actor. He was named after the English comedian Charlie Chaplin.

H. Raja

Born in

India

Years

1957-.. (age 65)

Biography

Hariharan Raja Sharma also known as H. Raja is an Indian politician. He started his political-social life as an Rashtriya Swayamsevak Sangh promoter. He was a MLA representing the Karaikudi constituency in the Tamil Nadu Legislative Assembly from 2001 to 2006. He was one of the national secretaries of the Bharatiya Janata Party from 2014 to 2020.

Mukul Roy

Born in

India

Years

1954-.. (age 68)

Biography

Mukul Roy is an Indian politician from West Bengal. He belongs to the Bharatiya Janata Party. He was appointed as the National Vice-President of Bharatiya Janata Party. He has also served as a Minister of State in the Shipping Ministry and later Ministry of Railways during the UPA 2 government. He was formerly associated with the Indian National Congress and All India Trinamool Congress.

Gopi Shankar Madurai

Born in

India

Years

1991-.. (age 31)

Occupations

indigenist

politician

LGBTQI+ rights activist

Biography

Gopi Shankar Madurai is an Indian equal rights and Indigenous rights activist. Shankar was one of the youngest, and the first openly intersex and genderqueer statutory authority and one of the candidates to contest in 2016 Tamil Nadu Legislative Assembly election. Shankar is also the founder of Srishti Madurai Student Volunteer Collective. Shankar's work inspired the Madras High Court (Madurai Bench) to direct the Government of Tamil Nadu to order a ban on forced sex-selective surgeries on intersex infants. In December 2017 Shankar was elected to the Executive board of ILGA Asia. In August 2020 the Ministry of Social Justice and Empowerment appointed Shankar as the South Regional representative in the National Council for Transgender Persons.

Nirmal Selvamony

Biography

Dr. Nirmal Selvamony is an Indian academician and scholar. When he retired from Central University of Tamil Nadu in 2018, he was Professor and Head of the Department of English Studies and Dean of the School of Social Sciences and Humanities. His major interests include Literary Theory, Ecocriticism, Ecotheory, music and drama. He is the current president of tiNai (formerly, OSLE-India). He obtained in 1988, his Ph.D. from the University of Madras for his dissertation, "Literary Personhood in tolkappiyam." He completed BA from Scott Christian College with First Rank in Madurai Kamaraj University. He published 14 books, 50 chapters in books, more than 75 research papers in journals and more than 100 conference papers. He has taught in universities in India and abroad. He got North East Ohio Tamil Sangam Life Time Achievement Award in 2011.

Kaustuv Sanyal

Biography

Kaustuv Sanyal is an Indian molecular biologist, mycologist and a professor at the Molecular Biology and Genetics Unit of the Jawaharlal Nehru Centre for Advanced Scientific Research (JNCASR). He is known for his molecular and genetic studies of pathogenic yeasts such as Candida and Cryptococcus). An alumnus of Bidhan Chandra Krishi Viswavidyalaya and Madurai Kamaraj University from where he earned a BSc in agriculture and MSc in biotechnology respectively, Sanyal did his doctoral studies at Bose Institute to secure a PhD in Yeast genetics. He moved to the University of California, Santa Barbara, USA to work in the laboratory of John Carbon on the discovery of centromeres in Candida albicans. He joined JNCASR in 2005. He is a member of the Faculty of 1000 in the disciplines of Microbial Evolution and Genomics and has delivered invited speeches which include the Gordon Research Conference, EMBO conferences on comparative genomics and kinetochores. The Department of Biotechnology of the Government of India awarded him the National Bioscience Award for Career Development, one of the highest Indian science awards, for his contributions to biosciences, in 2012. He has also been awarded with the prestigious Tata Innovation Fellowship in 2017. The National Academy of Sciences, India elected him as a fellow in 2014. He is also an elected fellow of Indian Academy of Sciences (2017), and the Indian National Science Academy (2018). In 2019, he has been elected to Fellowship in the American Academy of Microbiology (AAM), the honorific leadership group within the American Society for Microbiology.

Sendurai A. Mani

Enrolled in Madurai Kamaraj University

In 1993 graduated with Master of Science in biology

Occupations

professor

Biography

Sendurai A. Mani is an Indian-American oncologist. He is a fellow of the American Association for the Advancement of Sciences and co-director, Metastasis Research Center, co-director, Center for Stem Cell & Developmental Biology, and Professor of Translational Molecular Pathologist at MD Anderson Cancer Center.
General info
Alternative names
MKU
मदुरै कामराज विश्वविद्यालय
Founded
1965
Accreditation
National Assessment and Accreditation Council (NAAC)
Motto
To Seek Truth is Knowledge
Affiliations and memberships
Association of Commonwealth Universities (ACU)
Association of Indian Universities (AIU)
Distance Education Bureau (DEB)
Location and Contacts
Address
Palkalai Nagar
Madurai, Tamil Nadu, 625 021
India
City population
1,561,000
Phone
+91 (452) 245 9166
Fax
+91 (452) 245 9181