University of Central Missouri Rankings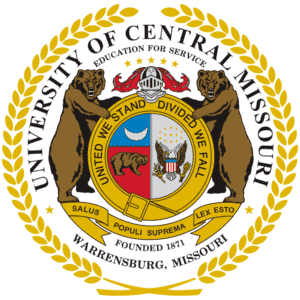 Quick Review
Acceptance rate

65%

Undergraduates

8,904

Graduates

2,325

Male:Female Ratio

42:58

Control

Public

Highest Degree

Post-master's certificate

Website
University of Central Missouri Acceptance rate and Admissions statistics
| | Total | Men | Women |
| --- | --- | --- | --- |
| Acceptance Rate | 65% | 65% | 65% |
| Applicants | 5,699 | 2,378 | 3,321 |
| Admissions | 3,706 | 1,552 | 2,154 |
| Freshmen enrolled full time | 1,227 | 559 | 668 |
| Freshmen enrolled part time | 22 | 12 | 10 |
3,226 students enrolled in some distance education courses.
1,177 enrolled exclusively in distance education.
ACT scores
Among admitted applicants
1,216 or 97%
submitted ACT
25% of them
had 19
or below
75% of them
had 25
or below
Typical ACT scores of first-years in University of Central Missouri are 19-25 (middle 50% range).
Admissions requirements
| | |
| --- | --- |
| SAT/ACT | Required |
| Secondary school GPA | Required |
| Secondary school record | Required |
| TOEFL | Required |
| College-preparatory program | Recommended |
| Secondary school rank | Recommended |
| Formal demonstration of competencies | Neither required nor recommended |
| Other Tests | Neither required nor recommended |
| Recommendations | Neither required nor recommended |
Enrollment by race or ethnicity
| | |
| --- | --- |
| White | 8328 (74%) |
| Black or African American | 829 (7%) |
| Nonresident Alien | 766 (7%) |
| Hispanic | 507 (5%) |
| Two or more races | 465 (4%) |
| Race or Ethnicity unknown | 174 (2%) |
| Asian | 108 (1%) |
| Native Hawaiian or other Pacific Islander | 22 (0.2%) |
| American Indian or Alaska Native | 10 (0.1%) |
Costs per year: Tuition, Housing, Fees
Average aid awarded

$5,739

Students receiving aid

94%
Tuition and fees
| | Undergraduates | Graduates |
| --- | --- | --- |
| Tuition in-district | $7,128 | $7,524 |
| Tuition in-state | $7,128 | $7,524 |
| Tuition out-of-state | $14,256 | $15,048 |
| Fee in-district | $915 | $915 |
| Fee in-state | $915 | $915 |
| Fee out-of-state | $915 | $915 |
Room and board price
| | |
| --- | --- |
| Dormitory capacity | 3,994 |
| Combined charge for room and board | $8,962 |
| Room charge | $5,612 |
| Meal charge | $3,350 |
University of Central Missouri Majors
| Major | Bachelor's | Master's |
| --- | --- | --- |
| Computer Science | 54 | 156 |
| Criminal Justice & Law Enforcement Administration | 137 | 25 |
| Registered Nursing & Registered Nurse | 151 | |
| Elementary Education and Teaching | 115 | 34 |
| Liberal Arts and Sciences, General Studies and Humanities, Other | 99 | |
| Occupational Safety and Health Technology & Technician | 66 | 22 |
| Research and Experimental Psychology, Other | 75 | 4 |
| Business Administration and Management, General | 49 | 28 |
| Secondary Education and Teaching | 59 | 8 |
| Accounting | 38 | 25 |
| Biology & Biological Sciences, General | 58 | 4 |
| Marketing & Marketing Management, General | 57 | |
| Education, Other | 55 | |
| Child Development | 55 | |
| Information Technology | | 53 |
| Kinesiology and Exercise Science | | 51 |
| Health Services & Allied Health & Health Sciences, General | 47 | |
| Family Practice Nurse & Nursing | | 44 |
| Educational & Instructional Technology | | 43 |
| Engineering Technology, General | 41 | |
| Computer and Information Systems Security & Information Assurance | 25 | 16 |
| Sport and Fitness Administration & Management | 40 | |
| Finance, General | 39 | |
| Commercial and Advertising Art | 38 | |
| Speech Communication and Rhetoric | 20 | 17 |
| Social Work | 37 | |
| Aviation & Airway Management and Operations | 19 | 17 |
| Teacher Education, Multiple Levels | | 34 |
| Special Education and Teaching, General | 19 | 14 |
| Music, General | 18 | 14 |
| Construction Management | 30 | |
| Radio and Television | 30 | |
| Audiology & Audiologist and Speech-Language Pathology & Pathologist | | 30 |
| CAD & CADD Drafting and & or Design Technology & Technician | 29 | |
| Fashion Merchandising | 25 | |
| Industrial Engineering | | 25 |
| Fine & Studio Arts, General | 23 | |
| Junior High & Intermediate & Middle School Education and Teaching | 23 | |
| Public Relations & Image Management | 22 | |
| Agricultural Business and Management, Other | 21 | |
| History, General | 12 | 8 |
| Economics, General | 19 | |
| Counseling Psychology | | 19 |
| Library and Information Science | | 18 |
| International & Global Studies | 17 | |
| Sociology | 16 | |
| Mathematics Teacher Education | | 16 |
| Teacher Education and Professional Development, Specific Levels and Methods, Oth | | 16 |
| Music Teacher Education | 15 | |
| Computer and Information Sciences, General | 15 | |
| Teacher Education and Professional Development, Specific Subject Areas, Other | | 15 |
| Airline & Commercial & Professional Pilot and Flight Crew | 14 | |
| Human Development and Family Studies, General | | 14 |
| Mechanical Engineering Related Technologies & Technicians, Other | 13 | |
| Dietetics & Dietitian | 13 | |
| Industrial Technology & Technician | 6 | 7 |
| Printing Management | 13 | |
| Speech-Language Pathology & Pathologist | 13 | |
| Anthropology | 12 | |
| Art Teacher Education | 12 | |
| Higher Education & Higher Education Administration | | 12 |
| Elementary and Middle School Administration & Principalship | | 12 |
| Teaching English as a Second or Foreign Language & ESL Language Instructor | | 12 |
| Crisis & Emergency & Disaster Management | 11 | |
| Computer Systems Networking and Telecommunications | 11 | |
| Actuarial Science | 10 | |
| Drama and Dramatics & Theatre Arts, General | 10 | |
| English Language and Literature, General | 10 | |
| Political Science and Government, General | 10 | |
| Interior Design | 10 | |
| Quality Control and Safety Technologies & Technicians, Other | 9 | |
| Radiologic Technology & Science - Radiographer | 9 | |
| Mathematics, General | 5 | 4 |
| Athletic Training & Trainer | 9 | |
| Chemistry, General | 8 | |
| Hospitality Administration & Management, General | 8 | |
| Foreign Languages and Literatures, General | 8 | |
| Entrepreneurship & Entrepreneurial Studies | 8 | |
| Photography | 6 | |
| International Business & Trade & Commerce | 5 | |
| Musical Theatre | 5 | |
| Reading Teacher Education | | 5 |
| Electrical, Electronic and Communications Engineering Technology & Technician | 4 | |
| Trade and Industrial Teacher Education | 4 | |
| Computer Technology & Computer Systems Technology | 4 | |
| Gerontology | | 4 |
| Psychology, General | | 2 |
| Philosophy | 2 | |
| Human Nutrition | | 2 |
| Physics Teacher Education | 1 | |
| Chemistry Teacher Education | 1 | |
| Agribusiness & Agricultural Business Operations | 1 | |
| Clinical Laboratory Science & Medical Technology & Technologist | 1 | |
| Computer Systems Analysis & Analyst | | 1 |
| Grand Total | 1,974 | 831 |
Total
Men
Women
Graduation rate
51%
46%
55%

Full-time retention rate - 74%
Part-time retention rate - 29%
Publications & Citations
Publication count by topic
| | |
| --- | --- |
| Psychology | |
| Medicine | |
| Computer science | |
| Sociology | |
| Business | |
| Political science | |
| Mathematics | |
| Art | |
| Biology | |
| Engineering | |
| History | |
| Economics | |
| Geography | |
| Philosophy | |
| Chemistry | |
| Materials science | |
| Geology | |
| Physics | |
| Environmental science | |
Topical rankings by citation count
| Discipline | World Rank | Citations |
| --- | --- | --- |
| Psychology | 1003 | 11,953 |
| Business | 1047 | 3,206 |
| Art | 1238 | 48 |
| Political science | 1371 | 458 |
| History | 1445 | 43 |
| Economics | 1488 | 1,309 |
| Sociology | 1553 | 705 |
| Philosophy | 1785 | 18 |
| Geography | 1853 | 476 |
| Geology | 1967 | 336 |
| Computer science | 1975 | 2,611 |
| Medicine | 2120 | 3,022 |
| Engineering | 2179 | 887 |
| Physics | 2639 | 376 |
| Mathematics | 2742 | 653 |
| Biology | 2950 | 1,678 |
| Environmental science | 3519 | 126 |
| Chemistry | 3819 | 546 |
| Materials science | 4072 | 163 |
Annual publication & citation counts
| Year | Publications | Citations |
| --- | --- | --- |
| 1990 | 17 | 50 |
| 1991 | 14 | 53 |
| 1992 | 18 | 68 |
| 1993 | 17 | 55 |
| 1994 | 18 | 87 |
| 1995 | 27 | 77 |
| 1996 | 30 | 93 |
| 1997 | 29 | 116 |
| 1998 | 20 | 154 |
| 1999 | 30 | 194 |
| 2000 | 23 | 261 |
| 2001 | 34 | 285 |
| 2002 | 36 | 355 |
| 2003 | 40 | 403 |
| 2004 | 51 | 476 |
| 2005 | 50 | 530 |
| 2006 | 58 | 761 |
| 2007 | 57 | 962 |
| 2008 | 62 | 1141 |
| 2009 | 80 | 1303 |
| 2010 | 79 | 1578 |
| 2011 | 74 | 1660 |
| 2012 | 58 | 2071 |
| 2013 | 94 | 2324 |
| 2014 | 138 | 2387 |
| 2015 | 84 | 2332 |
| 2016 | 87 | 2078 |
| 2017 | 97 | 1790 |
| 2018 | 84 | 1472 |
| 2019 | 112 | 1824 |
| 2020 | 93 | 1879 |
General info
Alternative names
Central
UCM
Founded
1871
Wikipedia
University of Central Missouri
Motto
Education for Service
Colors
cardinal, black
Academic Calendar
August to May (August - December; January-May). Also Summer Terms (May-August)
Total FTE staff
1,239
Carnegie Classification
Master's Colleges & Universities: Larger Programs
Location and Contacts
Address
108 W South Street
Warrensburg, Missouri, 64093
United States
City population
19,000
Phone
6605434111
Fax
+1 (660) 543 4201