CUNY Queens College Rankings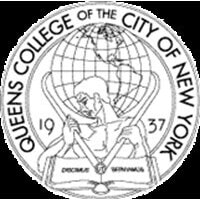 Quick Review
Acceptance rate

49%

Undergraduates

16,866

Graduates

3,057

Male:Female Ratio

43:57

Control

Public

Highest Degree

Post-master's certificate

Website
CUNY Queens College Acceptance rate and Admissions statistics
| | Total | Men | Women |
| --- | --- | --- | --- |
| Acceptance Rate | 49% | 47% | 50% |
| Applicants | 24,277 | 10,825 | 13,452 |
| Admissions | 11,845 | 5,081 | 6,764 |
| Freshmen enrolled full time | 2,246 | 1,057 | 1,189 |
| Freshmen enrolled part time | 20 | 10 | 10 |
578 students enrolled in some distance education courses.
117 enrolled exclusively in distance education.
SAT scores
Among admitted applicants
2,099 or 93%
submitted SAT
25% of them
had 1040
or below
75% of them
had 1200
or below
Typical SAT scores of first-years in CUNY Queens College are 1040-1200 (middle 50% range).
Admissions requirements
| | |
| --- | --- |
| College-preparatory program | Required |
| SAT/ACT | Required |
| Secondary school GPA | Required |
| Secondary school record | Required |
| TOEFL | Required |
| Recommendations | Recommended |
| Formal demonstration of competencies | Neither required nor recommended |
| Other Tests | Neither required nor recommended |
| Secondary school rank | Neither required nor recommended |
Enrollment by race or ethnicity
| | |
| --- | --- |
| Hispanic | 5657 (28%) |
| Asian | 5601 (28%) |
| White | 5364 (27%) |
| Black or African American | 1717 (9%) |
| Nonresident Alien | 998 (5%) |
| Two or more races | 454 (2%) |
| Native Hawaiian or other Pacific Islander | 69 (0.3%) |
| American Indian or Alaska Native | 25 (0.1%) |
Costs per year: Tuition, Housing, Fees
Average aid awarded

$9,111

Students receiving aid

79%
Tuition and fees
| | Undergraduates | Graduates |
| --- | --- | --- |
| Tuition in-district | $6,930 | $11,090 |
| Tuition in-state | $6,930 | $11,090 |
| Tuition out-of-state | $14,880 | $20,520 |
| Fee in-district | $608 | $522 |
| Fee in-state | $608 | $522 |
| Fee out-of-state | $608 | $522 |
Room and board price
| | |
| --- | --- |
| Dormitory capacity | 510 |
| Combined charge for room and board | $15,102 |
| Room charge | $12,752 |
| Meal charge | $2,350 |
CUNY Queens College Majors
| Major | Bachelor's | Master's |
| --- | --- | --- |
| Psychology, General | 654 | 11 |
| Accounting | 452 | 90 |
| Economics, General | 363 | |
| Computer Science | 219 | 28 |
| Sociology | 197 | |
| Elementary Education and Teaching | 86 | 71 |
| English Language and Literature, General | 135 | 12 |
| Political Science and Government, General | 138 | |
| Mass Communication & Media Studies | 132 | 3 |
| Biology & Biological Sciences, General | 122 | 5 |
| History, General | 80 | 39 |
| Graphic Design | 110 | |
| Communication Sciences and Disorders, General | 93 | |
| Finance, General | 92 | |
| Library and Information Science | | 92 |
| Mathematics, General | 75 | 13 |
| Teaching English as a Second or Foreign Language & ESL Language Instructor | 26 | 48 |
| Mathematics Teacher Education | 22 | 43 |
| Kinesiology and Exercise Science | 55 | 8 |
| Urban Studies & Affairs | 22 | 40 |
| Dietetics & Dietitian | 61 | |
| Fine & Studio Arts, General | 42 | 15 |
| Music Performance, General | 31 | 20 |
| Early Childhood Education and Teaching | | 49 |
| Family and Consumer Sciences & Human Sciences, General | 42 | |
| Physical Education Teaching and Coaching | 23 | 17 |
| Education & Teaching of Individuals in Elementary Special Education Programs | | 38 |
| English & Language Arts Teacher Education | 19 | 18 |
| Anthropology | 34 | |
| Reading Teacher Education | | 34 |
| Social Studies Teacher Education | 21 | 12 |
| School Psychology | | 33 |
| Jazz & Jazz Studies | | 32 |
| International Business & Trade & Commerce | 31 | |
| Spanish Language and Literature | 26 | 1 |
| Linguistics | 25 | |
| Art Teacher Education | 6 | 18 |
| Education & Teaching of Individuals in Early Childhood Special Education Programs | | 24 |
| Drama and Dramatics & Theatre Arts, General | 23 | |
| Counselor Education & School Counseling and Guidance Services | | 23 |
| Superintendency and Educational System Administration | | 23 |
| Mental Health Counseling & Counselor | | 21 |
| Management Sciences and Quantitative Methods, Other | | 21 |
| Music Teacher Education | 9 | 10 |
| Environmental Studies | 19 | |
| Chemistry, General | 11 | 8 |
| Education & Teaching of Individuals in Secondary Special Education Programs | | 16 |
| Speech-Language Pathology & Pathologist | | 16 |
| Philosophy | 14 | 1 |
| Chinese Language and Literature | 14 | |
| Applied Behavior Analysis | | 12 |
| Actuarial Science | 11 | |
| Physics, General | 10 | 1 |
| Spanish Language Teacher Education | 6 | 5 |
| Statistics, Other | | 11 |
| East Asian Studies | 10 | |
| Family and Consumer Sciences & Home Economics Teacher Education | 2 | 8 |
| Environmental Science | 10 | |
| School Librarian & School Library Media Specialist | | 10 |
| Film & Cinema & Video Studies | 8 | |
| Science Teacher Education & General Science Teacher Education | | 8 |
| Creative Writing | | 8 |
| Labor Studies | 7 | |
| French Language and Literature | 4 | 3 |
| Geology & Earth Science, General | 3 | 4 |
| Econometrics and Quantitative Economics | 7 | |
| Art History, Criticism and Conservation | 4 | 2 |
| Comparative Literature | 6 | |
| Liberal Arts and Sciences & Liberal Studies | | 6 |
| Women's Studies | 5 | |
| African-American & Black Studies | 4 | |
| Italian Language and Literature | 3 | 1 |
| Foreign Language Teacher Education | 1 | 3 |
| Optics & Optical Sciences | | 4 |
| Biology Teacher Education | 2 | 1 |
| Multi- & Interdisciplinary Studies, General | 3 | |
| Neuroscience | | 3 |
| Clinical Psychology | | 3 |
| Latin American Studies | 2 | |
| Chemistry Teacher Education | 1 | 1 |
| American & United States Studies & Civilization | 1 | |
| Physics Teacher Education | | 1 |
| French Language Teacher Education | | 1 |
| Jewish & Judaic Studies | 1 | |
| Near and Middle Eastern Studies | 1 | |
| Hebrew Language and Literature | 1 | |
| Social Sciences, General | | 1 |
| Grand Total | 3,637 | 1,050 |
Total
Men
Women
Graduation rate
56%
48%
64%

Full-time retention rate - 82%
Part-time retention rate - 65%
Publications & Citations
Publication count by topic
| | |
| --- | --- |
| Psychology | |
| Mathematics | |
| Chemistry | |
| Medicine | |
| Sociology | |
| Biology | |
| Computer science | |
| Political science | |
| History | |
| Geology | |
| Materials science | |
| Physics | |
| Art | |
| Economics | |
| Geography | |
| Philosophy | |
| Environmental science | |
| Business | |
| Engineering | |
Topical rankings by citation count
| Discipline | World Rank | Citations |
| --- | --- | --- |
| History | 389 | 785 |
| Art | 473 | 397 |
| Psychology | 516 | 46,379 |
| Geology | 523 | 10,355 |
| Political science | 524 | 3,570 |
| Sociology | 578 | 6,381 |
| Economics | 707 | 7,664 |
| Geography | 771 | 3,230 |
| Philosophy | 819 | 195 |
| Mathematics | 893 | 11,503 |
| Computer science | 1088 | 10,437 |
| Environmental science | 1108 | 3,442 |
| Medicine | 1192 | 15,578 |
| Biology | 1283 | 17,950 |
| Chemistry | 1429 | 14,189 |
| Physics | 1459 | 2,920 |
| Materials science | 1855 | 4,274 |
| Business | 1935 | 713 |
| Engineering | 2573 | 502 |
Annual publication & citation counts
| Year | Publications | Citations |
| --- | --- | --- |
| 1990 | 69 | 1060 |
| 1991 | 84 | 1035 |
| 1992 | 85 | 1179 |
| 1993 | 94 | 1322 |
| 1994 | 85 | 1293 |
| 1995 | 70 | 1581 |
| 1996 | 67 | 1519 |
| 1997 | 78 | 1673 |
| 1998 | 84 | 1780 |
| 1999 | 85 | 1906 |
| 2000 | 102 | 2217 |
| 2001 | 97 | 2341 |
| 2002 | 81 | 2639 |
| 2003 | 83 | 3040 |
| 2004 | 98 | 3216 |
| 2005 | 106 | 3476 |
| 2006 | 149 | 4138 |
| 2007 | 152 | 4698 |
| 2008 | 185 | 4931 |
| 2009 | 166 | 5692 |
| 2010 | 163 | 6455 |
| 2011 | 166 | 6992 |
| 2012 | 193 | 8003 |
| 2013 | 225 | 8875 |
| 2014 | 238 | 10013 |
| 2015 | 239 | 9910 |
| 2016 | 214 | 9563 |
| 2017 | 211 | 9188 |
| 2018 | 216 | 8305 |
| 2019 | 258 | 9403 |
| 2020 | 225 | 9939 |
General info
Alternative names
Queens
Queens College
Founded
1937
Wikipedia
Queens College, City University of New York
Motto
Discimus ut serviamus
We learn so that we may serve
Colors
red, black
Academic Calendar
August to June (August - December; January-June)
Total FTE staff
1,759
Carnegie Classification
Master's Colleges & Universities: Larger Programs
Location and Contacts
Address
65-30 Kissena Blvd
Queens, New York, 11367
United States
City population
8,399,000
Phone
7189975000
Fax
+1 (718) 793 8044