CUNY Brooklyn College Rankings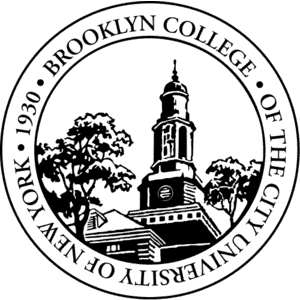 Quick Review
Acceptance rate

45%

Undergraduates

14,970

Graduates

2,841

Male:Female Ratio

41:59

Control

Public

Highest Degree

Post-master's certificate

Website
CUNY Brooklyn College Acceptance rate and Admissions statistics
| | Total | Men | Women |
| --- | --- | --- | --- |
| Acceptance Rate | 45% | 43% | 46% |
| Applicants | 26,973 | 12,215 | 14,758 |
| Admissions | 12,136 | 5,285 | 6,851 |
| Freshmen enrolled full time | 1,882 | 886 | 996 |
| Freshmen enrolled part time | 12 | 4 | 8 |
1,123 students enrolled in some distance education courses.
55 enrolled exclusively in distance education.
SAT scores
Among admitted applicants
1,799 or 95%
submitted SAT
25% of them
had 1040
or below
75% of them
had 1220
or below
Typical SAT scores of first-years in CUNY Brooklyn College are 1040-1220 (middle 50% range).
Admissions requirements
| | |
| --- | --- |
| College-preparatory program | Required |
| Formal demonstration of competencies | Required |
| SAT/ACT | Required |
| Secondary school GPA | Required |
| Secondary school record | Required |
| TOEFL | Required |
| Recommendations | Considered but not required |
| Other Tests | Neither required nor recommended |
| Secondary school rank | Neither required nor recommended |
Enrollment by race or ethnicity
| | |
| --- | --- |
| White | 5167 (29%) |
| Hispanic | 4136 (23%) |
| Black or African American | 4005 (23%) |
| Asian | 3495 (20%) |
| Nonresident Alien | 542 (3%) |
| Two or more races | 399 (2%) |
| Native Hawaiian or other Pacific Islander | 27 (0.2%) |
| American Indian or Alaska Native | 21 (0.1%) |
Costs per year: Tuition, Housing, Fees
Average aid awarded

$9,615

Students receiving aid

83%
Tuition and fees
| | Undergraduates | Graduates |
| --- | --- | --- |
| Tuition in-district | $6,930 | $11,090 |
| Tuition in-state | $6,930 | $11,090 |
| Tuition out-of-state | $14,880 | $20,520 |
| Fee in-district | $510 | $432 |
| Fee in-state | $510 | $432 |
| Fee out-of-state | $510 | $432 |
CUNY Brooklyn College Majors
| Major | Bachelor's | Master's |
| --- | --- | --- |
| Business Administration and Management, General | 529 | 129 |
| Psychology, General | 500 | |
| Accounting | 258 | 7 |
| Early Childhood Education and Teaching | 89 | 65 |
| Elementary Education and Teaching | 98 | 54 |
| Computer and Information Sciences, General | 136 | |
| Biology & Biological Sciences, General | 100 | 6 |
| Finance, General | 99 | |
| Health Professions and Related Clinical Sciences, Other | 87 | |
| English Language and Literature, General | 65 | 12 |
| Cinematography and Film & Video Production | 76 | |
| Kinesiology and Exercise Science | 53 | 21 |
| Ethnic, Cultural Minority, Gender, and Group Studies, Other | 73 | |
| Education & Teaching of Individuals in Secondary Special Education Programs | | 70 |
| Audiology & Audiologist and Speech-Language Pathology & Pathologist | 66 | |
| Radio and Television | 59 | 6 |
| English & Language Arts Teacher Education | 15 | 49 |
| Education & Teaching of Individuals in Elementary Special Education Programs | | 63 |
| Political Science and Government, General | 43 | 19 |
| Film & Cinema & Video Studies | | 58 |
| Speech Communication and Rhetoric | 57 | |
| Physical Education Teaching and Coaching | 22 | 33 |
| Fine & Studio Arts, General | 44 | 10 |
| Creative Writing | 24 | 22 |
| Drama and Dramatics & Theatre Arts, General | 23 | 21 |
| Information Science & Studies | 22 | 20 |
| Chemistry, General | 40 | 2 |
| Mental Health Counseling & Counselor | | 42 |
| History, General | 33 | 8 |
| Counselor Education & School Counseling and Guidance Services | | 37 |
| Sociology | 31 | 3 |
| School Psychology | | 34 |
| Industrial and Organizational Psychology | | 33 |
| Social Studies Teacher Education | 18 | 14 |
| Educational Leadership and Administration, General | | 32 |
| Speech-Language Pathology & Pathologist | | 32 |
| Biology Teacher Education | 2 | 21 |
| Music Theory and Composition | 1 | 21 |
| Music Performance, General | 7 | 15 |
| Anthropology | 21 | |
| Dietetics and Clinical Nutrition Services, Other | 21 | |
| Mathematics, General | 20 | |
| Philosophy | 20 | |
| Computer Science | 2 | 17 |
| Mathematics Teacher Education | 12 | 7 |
| Geology & Earth Science, General | 12 | 6 |
| Economics, General | 17 | |
| Foods, Nutrition, and Wellness Studies, General | | 17 |
| Sport and Fitness Administration & Management | | 16 |
| Broadcast Journalism | 15 | |
| Linguistics | 13 | |
| Education & Teaching of Individuals in Early Childhood Special Education Programs | | 13 |
| Art Teacher Education | | 12 |
| Journalism | 11 | |
| Music, General | 10 | |
| Sustainability Studies | 10 | |
| Computational and Applied Mathematics | 9 | |
| Science Teacher Education & General Science Teacher Education | | 9 |
| Art History, Criticism and Conservation | 6 | 2 |
| Web Page, Digital & Multimedia and Information Resources Design | 7 | |
| Experimental Psychology | | 7 |
| Physics, General | 6 | |
| Music Teacher Education | 4 | 2 |
| Spanish Language Teacher Education | 3 | 3 |
| Visual and Performing Arts, General | | 6 |
| Public Health, General | | 6 |
| Women's Studies | 5 | |
| Mass Communication & Media Studies | | 5 |
| African-American & Black Studies | 4 | |
| Earth Science Teacher Education | 2 | 2 |
| Spanish Language and Literature | 1 | 2 |
| American & United States Studies & Civilization | 2 | |
| Chemistry Teacher Education | 2 | |
| Junior High & Intermediate & Middle School Education and Teaching | | 2 |
| Musicology and Ethnomusicology | | 2 |
| Superintendency and Educational System Administration | | 2 |
| Medical Informatics | | 2 |
| French Language Teacher Education | | 1 |
| Classics and Classical Languages, Literatures, and Linguistics, General | 1 | |
| Jewish & Judaic Studies | 1 | |
| Environmental Studies | 1 | |
| French Language and Literature | | 1 |
| Financial Mathematics | 1 | |
| Hispanic-American, Puerto Rican, and Mexican-American & Chicano Studies | 1 | |
| Liberal Arts and Sciences & Liberal Studies | | 1 |
| Jazz & Jazz Studies | | 1 |
| Grand Total | 2,910 | 1,103 |
Total
Men
Women
Graduation rate
54%
46%
60%

Full-time retention rate - 80%
Part-time retention rate - 50%
Publications & Citations
Publication count by topic
| | |
| --- | --- |
| Psychology | |
| Biology | |
| Chemistry | |
| Computer science | |
| Sociology | |
| Mathematics | |
| Political science | |
| Medicine | |
| History | |
| Materials science | |
| Art | |
| Geology | |
| Physics | |
| Philosophy | |
| Economics | |
| Business | |
| Geography | |
| Environmental science | |
| Engineering | |
Topical rankings by citation count
| Discipline | World Rank | Citations |
| --- | --- | --- |
| History | 376 | 823 |
| Sociology | 543 | 7,515 |
| Psychology | 562 | 39,379 |
| Political science | 616 | 2,647 |
| Philosophy | 632 | 348 |
| Geology | 844 | 3,694 |
| Art | 1022 | 83 |
| Computer science | 1221 | 7,773 |
| Mathematics | 1252 | 5,757 |
| Geography | 1416 | 908 |
| Physics | 1445 | 3,004 |
| Biology | 1556 | 11,436 |
| Medicine | 1695 | 5,874 |
| Business | 1891 | 742 |
| Chemistry | 1903 | 6,644 |
| Economics | 2001 | 567 |
| Materials science | 2575 | 1,439 |
| Engineering | 3041 | 277 |
| Environmental science | 3117 | 209 |
Annual publication & citation counts
| Year | Publications | Citations |
| --- | --- | --- |
| 1990 | 60 | 1122 |
| 1991 | 49 | 1198 |
| 1992 | 45 | 1210 |
| 1993 | 32 | 1088 |
| 1994 | 49 | 1608 |
| 1995 | 44 | 1078 |
| 1996 | 41 | 1257 |
| 1997 | 30 | 1391 |
| 1998 | 27 | 1405 |
| 1999 | 35 | 1421 |
| 2000 | 41 | 1433 |
| 2001 | 35 | 1551 |
| 2002 | 60 | 1954 |
| 2003 | 51 | 2158 |
| 2004 | 56 | 2254 |
| 2005 | 58 | 2493 |
| 2006 | 74 | 2810 |
| 2007 | 78 | 2987 |
| 2008 | 65 | 3330 |
| 2009 | 89 | 3550 |
| 2010 | 86 | 3690 |
| 2011 | 79 | 3933 |
| 2012 | 100 | 4176 |
| 2013 | 93 | 4588 |
| 2014 | 135 | 4734 |
| 2015 | 114 | 4544 |
| 2016 | 122 | 4202 |
| 2017 | 128 | 4186 |
| 2018 | 114 | 3665 |
| 2019 | 127 | 4115 |
| 2020 | 120 | 4610 |
General info
Alternative names
Brooklyn College
Brooklyn
Founded
1930
Wikipedia
Brooklyn College
Motto
Nil sine magno labore
Nothing without great effort
Academic Calendar
September to June (September - January; February-June)
Total FTE staff
1,734
Carnegie Classification
Master's Colleges & Universities: Larger Programs
Location and Contacts
Address
2900 Bedford Ave
Brooklyn, New York, 11210
United States
City population
8,399,000
Phone
7189515000
Fax
+1 (718) 951 4642