Mahidol University: Statistics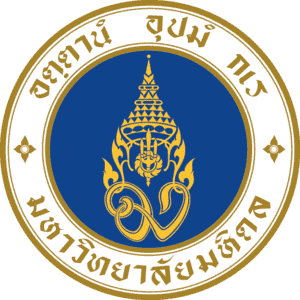 Quick Review
Enrollment

6,332

Type

Non-profit

Funding

Public-private
partnership

Highest Degree

Doctorate

Website

Languages

English

Acceptance rate

40%*
* Mahidol University is among the institutions that don't provide data on acceptance rates. This might happen because a university has programs where an applicant only needs to meet admission requirements to enroll and doesn't necessarily competes with others.
We estimate the above acceptance rate based on admission statistics of closely-ranked nearby universities with similar research profiles that do publish such data.
Acceptance rate & Admissions
| | |
| --- | --- |
| Admissions Requirements | Secondary school certificate with entrance examination, and TOEFL (550), SAT (1100) or IELTS (6.0) |
| Academic Calendar | International College: Trimester 1: September - December; Trimester 2: January - March; Trimester 3: April - July. Other faculties, colleges and institutes: Semester 1: mid-August to mid-December; Semester 2: mid-January to end of May |
| Enrollment | 6,332 |
| Full time employee | 3,979 |
| Student:staff ratio | 2:1 |
Tuition
| | Undergraduate | Graduate |
| --- | --- | --- |
| International students | $6,250 | $3,750 |
Mahidol University has financial aid programs and on-campus housing.
Programs and Degrees
Programs

Associate's degree

Bachelor's

Master's

Doctoral

Design

|

Arts

|

Humanities
–
+
+
+
Business

|

Politics

|

Social Sciences
–
+
+
+
Languages

|

Culture

|

Linguistics
–
+
+
+
Nursing

|

Health

|

Pharmacy

|

Medicine
+
+
+
+
Engineering

|

IT
–
+
+
+
Maths

|

Natural Sciences
+
+
+
+
| | |
| --- | --- |
| Bachelor's Degree | Biomedical Engineering, Chemical Engineering, Civil Engineering, Computer Engineering, Electrical Engineering, Industrial Engineering, Mechanical Engineering, Telecommunications Engineering |
| Graduate Diploma | Biomedicine, Tropical Medicine |
| Master's Degree | Anatomy, Applied Linguistics, Applied Mathematics, Biochemistry, Biology, Biomedical Engineering, Biotechnology, Chemical Engineering, Chemistry, Computer Science, Demography and Population, Dentistry, Educational Administration, Engineering, Environmental Engineering, Environmental Management, Environmental Studies, Food Science, Genetics, Health Administration, Health Sciences, Human Rights, Management, Medical Technology, Microbiology, Natural Resources, Neurosciences, Nursing, Nutrition, Oral Pathology, Organic Chemistry, Orthodontics, Pathology, Pharmacology, Pharmacy, Physical Chemistry, Physical Therapy, Physics, Physiology, Public Health, Radiology, Toxicology, Tropical Medicine, Veterinary Science |
| Higher Graduate Diploma | Dentistry, Medicine |
| Doctoral Degree | Analytical Chemistry, Anatomy, Biochemistry, Biology, Biotechnology, Botany, Chemical Engineering, Computer Science, Demography and Population, Dentistry, Environmental Studies, Genetics, Health Administration, Inorganic Chemistry, Mathematics, Medical Technology, Medicine, Microbiology, Neurosciences, Nursing, Organic Chemistry, Physical Chemistry, Physical Therapy, Physics, Physiology, Polymer and Plastics Technology, Public Health, Religious Studies, Sports, Technology Education, Toxicology, Tropical Medicine |
Mahidol University alumni
Princess Chulabhorn, The Princess Srisavangavadhana

Enrolled in Mahidol University

Studied in 1985

Occupations

chemist

instrumentalist

veterinarian

military officer

health professional

Biography

Princess Chulabhorn, the Princess Srisavangavadhana is a princess of Thailand, the youngest daughter of King Bhumibol Adulyadej and Queen Sirikit, and the younger sister of King Vajiralongkorn. She is officially styled Her Royal Highness Princess Chulabhorn, which corresponds to her full Thai title Somdet Phrachao Nong Nang Thoe Chaofa Chulabhorn Walailak Agrarajakumari (Thai: สมเด็จพระเจ้าน้องนางเธอ เจ้าฟ้าจุฬาภรณวลัยลักษณ์ อัครราชกุมารี).

Chanon Santinatharakul

Biography

Chanon Santinatornkul, nicknamed Non and also known by the alias Nonkul, is a Thai actor. He is best known for starring in the 2017 film Bad Genius, as well as various television roles with Nadao Bangkok.

Naphat Siangsomboon

Occupations

actor

model

television actor

Biography

Naphat Siangsomboon is a Thai actor and model. He made his first on-screen appearance in Nivea For Men TV commercial, and came to public attention in King Power commercial. His debut drama is Rak Kan Panlawan (2015).

Cherprang Areekul

Occupations

entertainer

actor

singer

Biography

Cherprang Areekul is a member of the Thai idol girl group BNK48, an international sister group of the Japanese idol girl group AKB48. She is one of the first-generation members of the group, and is also the first and current captain of the group.
General info
Alternative names
MU
มหาวิทยาลัยมหิดล
Founded
1888
Accreditation
Higher Education Commission, Ministry of Education
Motto
Attana? upama? kare
Wisdom of the Land
Colors
dark blue
Academic structure
Faculty of Dentistry
Faculty of Engineering
Faculty of Environment and Resource Studies
Faculty of Graduate Studies
Faculty of Information and Communication Technology
Faculty of Liberal Arts
Faculty of Medicine Ramthibodi Hospital
Faculty of Medicine Siriraj Hospital
Faculty of Medical Technology
Faculty of Nursing
Faculty of Pharmacy
Faculty of Physical Therapy
Faculty of Public Health
Faculty of Science
Faculty of Social Sciences and Humanities
Faculty of Tropical Medicine
Faculty of Veterinary Science
College of Music
College of Religious Studies
College of Sports Science and Technology
Mahidol University International College
Ratchasuda College
Affiliations and memberships
Association of Southeast Asian Institutions of higher Learning (ASAIHL)
ASEAN University Network (AUN)
Global University Network for Innovation (GUNI)
ASEAN European Academic University Network (ASEA-UNINET)
Location and Contacts
Address
20/25 Moo 3, Phuttamonthon 4 Road, Salaya, Phuttamonthon
Nakhon Pathom, Nakhon Pathom, 73170
Thailand
City population
79,000
Phone
+66 (2) 849 6000
Fax
+66 (2) 849 6237