Thammasat University: Statistics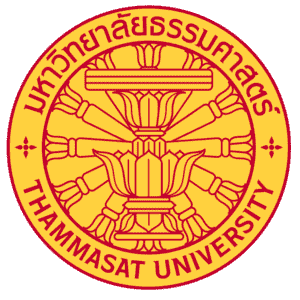 Quick Review
Enrollment

32,500

Type

Non-profit

Funding

Public-private
partnership

Highest Degree

Bachelor

Website

Languages

Thai;English

Acceptance rate

41%*
* Thammasat University is among the institutions that don't provide data on acceptance rates. This might happen because a university has programs where an applicant only needs to meet admission requirements to enroll and doesn't necessarily competes with others.
We estimate the above acceptance rate based on admission statistics of closely-ranked nearby universities with similar research profiles that do publish such data.
Acceptance rate & Admissions
| | |
| --- | --- |
| Admissions Requirements | Secondary school certificate (Mathayom Suksa 6) or equivalent, and entrance examination |
| Academic Calendar | Thai programme: June to March (June - October; November-March); International Programme: January to December (January-May; August- December) |
| Enrollment | 32,500 |
Programs and Degrees
Programs

Associate's degree

Bachelor's

Master's

Doctoral

Design

|

Arts

|

Humanities
–
+
–
–
Business

|

Politics

|

Social Sciences
–
+
–
–
Languages

|

Culture

|

Linguistics
–
–
–
–
Nursing

|

Health

|

Pharmacy

|

Medicine
–
+
–
–
Engineering

|

IT
–
+
–
–
Maths

|

Natural Sciences
–
+
–
–
| | |
| --- | --- |
| Bachelor's Degree | Anthropology, Architecture, Business Administration, Economics, Engineering, Fine Arts, Health Sciences, Journalism, Law, Mass Communication, Nursing, Political Sciences, Social Sciences, Social Work, Sociology, Technology |
| Master's Degree | Accountancy, Anthropology, Architecture, Asian Religious Studies, Business Administration, Business and Commerce, Civil Engineering, Communication Arts, Cultural Studies, Development Studies, Economics, English, French, French Studies, History, Industrial and Organizational Psychology, Information Sciences, Japanese, Journalism, Labour and Industrial Relations, Law, Library Science, Linguistics, Literature, Mass Communication, Political Sciences, Real Estate, Rural Studies, Social Work, Sociology, Technology, Telecommunications Engineering, Thai Languages, Translation and Interpretation, Women's Studies |
| Doctoral Degree | Biomedical Engineering, Business Administration, Chemical Engineering, Civil Engineering, Community Health, Dentistry, Economics, Engineering, Family Studies, Law, Linguistics, Marketing, Mass Communication, Medicine, Natural Sciences, Oral Pathology, Philosophy, Political Sciences, Social and Community Services, Statistics |
Thammasat University alumni
Ranee Campen

Born in

Thailand

Years

1989-.. (age 33)

Occupations

actor

model

television producer

Biography

Ranee Campen or nicknamed Bella (เบลล่า) is a Thai actress and model. She is best known for her roles in the television dramas such as Porn Prom Onlaweng (2013), Khun Chai Puttipat (2013), Plerng Chimplee (2014), Padiwaradda (2016), Plerng Boon (2017), Bupphe Sanniwat (2018) and Krong Kam (2019) on Thailand's Channel 3.

Bajrakitiyabha

Occupations

diplomat

lawyer

military officer

social worker

Biography

Princess Bajrakitiyabha Narendira Debyavati, the Princess Rajasarinisiribajra is a Thai diplomat and princess of Thailand, the first grandchild of King Bhumibol and Queen Sirikit of Thailand, and the only one of the seven children of King Maha Vajiralongkorn born to his first wife Princess Soamsawali.

Thanathorn Juangroongruangkit

Born in

Thailand

Years

1978-.. (age 44)

Occupations

politician

businessperson

Biography

Thanathorn Juangroongruangkit is a Thai politician who served as the leader of the Future Forward Party until the party dissolved in 2020. From 2002 to early-2018, Thanathorn was the vice president of the Thai Summit Group, Thailand's largest auto parts manufacturer.

Ann Thongprasom

Born in

Thailand

Years

1976-.. (age 46)

Enrolled in Thammasat University

Graduated with master's degree in mass communication

Occupations

actor

film actor

television producer

Biography

Anne Thongprasom is a Thai actress, model and producer who was the lead actress in many Thai series in the 2000s and had the lead role in the 2004 romantic melodrama The Letter: Jod Mai Rak.
General info
Alternative names
TU
มหาวิทยาลัยธรรมศาสตร์
Founded
1934
Accreditation
Higher Education Commission, Ministry of Education
Motto
Be the finest, be fair, be the main engine of the society
Colors
yellow, red
Academic structure
Faculty of Law
Faculty of Commerce and Accountancy
Faculty of Political Science
Faculty of Economics
Faculty of Journalism and Mass Communication
Faculty of Engineering
Faculty of Architecture and Planning
Sirindhorn International Institute of Technology
Affiliations and memberships
Association of Southeast Asian Institutions of Higher Learning (ASAIHL)
Location and Contacts
Address
2 Prachan Road
Bangkok, Bangkok, 10200
Thailand
City population
5,696,000
Phone
+66 (2) 221 6111
Fax
+66 (2) 224 8099