Southwestern Oklahoma State University Rankings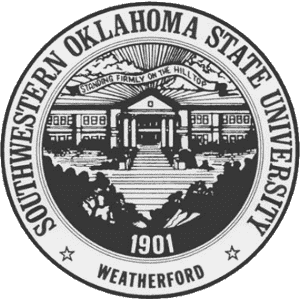 Quick Review
Acceptance rate

91%

Undergraduates

4,123

Graduates

838

Male:Female Ratio

37:63

Control

Public

Highest Degree

Doctor's degree

Website
Southwestern Oklahoma State University Acceptance rate and Admissions statistics
| | Total | Men | Women |
| --- | --- | --- | --- |
| Acceptance Rate | 91% | 91% | 91% |
| Applicants | 2,196 | 827 | 1,369 |
| Admissions | 2,000 | 755 | 1,245 |
| Freshmen enrolled full time | 842 | 332 | 510 |
| Freshmen enrolled part time | 27 | 11 | 16 |
1,615 students enrolled in some distance education courses.
999 enrolled exclusively in distance education.
ACT scores
Among admitted applicants
855 or 98%
submitted ACT
25% of them
had 18
or below
75% of them
had 24
or below
Typical ACT scores of first-years in Southwestern Oklahoma State University are 18-24 (middle 50% range).
Admissions requirements
| | |
| --- | --- |
| College-preparatory program | Required |
| SAT/ACT | Required |
| Secondary school GPA | Required |
| Secondary school rank | Required |
| Secondary school record | Required |
| TOEFL | Required |
| Formal demonstration of competencies | Neither required nor recommended |
| Other Tests | Neither required nor recommended |
| Recommendations | Neither required nor recommended |
Enrollment by race or ethnicity
| | |
| --- | --- |
| White | 3175 (66%) |
| Hispanic | 535 (11%) |
| Two or more races | 420 (9%) |
| Black or African American | 205 (4%) |
| Nonresident Alien | 165 (3%) |
| Race or Ethnicity unknown | 146 (3%) |
| Asian | 135 (3%) |
| American Indian or Alaska Native | 61 (1%) |
| Native Hawaiian or other Pacific Islander | 4 (0.1%) |
Costs per year: Tuition, Housing, Fees
Average aid awarded

$8,344

Students receiving aid

93%
Tuition and fees
| | Undergraduates | Graduates |
| --- | --- | --- |
| Tuition in-district | $6,150 | $6,084 |
| Tuition in-state | $6,150 | $6,084 |
| Tuition out-of-state | $13,050 | $12,564 |
| Fee in-district | $1,545 | $1,236 |
| Fee in-state | $1,545 | $1,236 |
| Fee out-of-state | $1,545 | $1,236 |
Room and board price
| | |
| --- | --- |
| Dormitory capacity | 1,370 |
| Combined charge for room and board | $6,030 |
| Room charge | $2,700 |
| Meal charge | $3,330 |
Southwestern Oklahoma State University Majors
| Major | Associate's degree | Bachelor's | Master's | Doctoral |
| --- | --- | --- | --- | --- |
| Registered Nursing & Registered Nurse | | 231 | 37 | |
| Business Administration and Management, General | | 121 | 31 | |
| General Studies | 114 | | | |
| Pharmacy | | | | 74 |
| Elementary Education and Teaching | | 62 | 1 | |
| Secondary Education and Teaching | | | 49 | |
| Parks, Recreation and Leisure Facilities Management, General | | 48 | | |
| Health Professions and Related Clinical Sciences, Other | | 40 | | |
| Educational Leadership and Administration, General | | | 32 | |
| Kinesiology and Exercise Science | | 30 | | |
| Clinical, Counseling and Applied Psychology, Other | | | 29 | |
| Engineering Technology, General | | 28 | | |
| Physical Therapy Technician & Assistant | 27 | | | |
| Computer and Information Sciences, General | | 26 | | |
| Psychology, General | | 25 | | |
| Biology & Biological Sciences, General | | 24 | | |
| Multi- & Interdisciplinary Studies, Other | | 22 | | |
| Special Education and Teaching, General | | 9 | 10 | |
| Health Information & Medical Records Administration & Administrator | | 19 | | |
| Educational Assessment, Testing, and Measurement | | | 19 | |
| Health & Health Care Administration & Management | | 18 | | |
| Fire Science & Fire-fighting | 14 | | | |
| Communication, General | | 14 | | |
| Community Psychology | | | 14 | |
| Health Services & Allied Health & Health Sciences, General | | 13 | | |
| Occupational Therapist Assistant | 13 | | | |
| Medical Radiologic Technology & Science - Radiation Therapist | 11 | | | |
| Criminal Justice & Safety Studies | 3 | 8 | | |
| English Language and Literature, General | | 11 | | |
| Music, General | | 9 | 2 | |
| Physical Education Teaching and Coaching | | 9 | 2 | |
| Chemistry, General | | 10 | | |
| History, General | | 8 | | |
| Music Teacher Education | | 8 | | |
| Business & Commerce, General | 7 | | | |
| Medical Informatics | | | 7 | |
| Computer Science | 5 | | | |
| Clinical & Medical Laboratory Technician | 4 | | | |
| Graphic Design | | 4 | | |
| Science Teacher Education & General Science Teacher Education | | 4 | | |
| Mathematics, General | | 4 | | |
| History Teacher Education | | 3 | | |
| Engineering Physics & Applied Physics | | 3 | | |
| Manufacturing Engineering Technology & Technician | | 3 | | |
| English & Language Arts Teacher Education | | 2 | | |
| Political Science and Government, General | | 2 | | |
| Art Teacher Education | | 2 | | |
| Spanish Language and Literature | | 1 | | |
| Grand Total | 198 | 821 | 233 | 74 |
Total
Men
Women
Graduation rate
35%
32%
37%

Full-time retention rate - 67%
Part-time retention rate - 17%
Publications & Citations
Publication count by topic
| | |
| --- | --- |
| Medicine | |
| Chemistry | |
| Psychology | |
| Computer science | |
| Biology | |
| Mathematics | |
| Business | |
| Political science | |
| Physics | |
| Materials science | |
| Engineering | |
| Sociology | |
| Economics | |
| Geography | |
| Art | |
| History | |
| Geology | |
| Environmental science | |
Topical rankings by citation count
| Discipline | World Rank | Citations |
| --- | --- | --- |
| Sociology | 1492 | 782 |
| Psychology | 1515 | 4,676 |
| Business | 1557 | 1,241 |
| Medicine | 2036 | 3,450 |
| Physics | 2768 | 317 |
| History | 2975 | 3 |
| Computer science | 3001 | 761 |
| Geography | 3182 | 89 |
| Biology | 3260 | 1,136 |
| Chemistry | 3302 | 1,042 |
| Geology | 3534 | 24 |
| Economics | 3574 | 55 |
| Engineering | 4142 | 69 |
| Political science | 4285 | 8 |
| Mathematics | 4615 | 55 |
| Environmental science | 4742 | 16 |
| Materials science | 5283 | 14 |
Annual publication & citation counts
| Year | Publications | Citations |
| --- | --- | --- |
| 1990 | 2 | 7 |
| 1991 | 1 | 7 |
| 1992 | 5 | 9 |
| 1993 | 12 | 13 |
| 1994 | 15 | 19 |
| 1995 | 10 | 35 |
| 1996 | 12 | 37 |
| 1997 | 14 | 51 |
| 1998 | 8 | 65 |
| 1999 | 14 | 89 |
| 2000 | 11 | 114 |
| 2001 | 16 | 145 |
| 2002 | 14 | 167 |
| 2003 | 9 | 236 |
| 2004 | 12 | 269 |
| 2005 | 13 | 322 |
| 2006 | 20 | 381 |
| 2007 | 19 | 462 |
| 2008 | 26 | 462 |
| 2009 | 18 | 563 |
| 2010 | 22 | 664 |
| 2011 | 26 | 713 |
| 2012 | 9 | 800 |
| 2013 | 27 | 966 |
| 2014 | 34 | 972 |
| 2015 | 34 | 1000 |
| 2016 | 39 | 936 |
| 2017 | 37 | 998 |
| 2018 | 50 | 852 |
| 2019 | 28 | 1098 |
| 2020 | 29 | 1217 |
General info
Alternative names
Southwestern Oklahoma State University Sayre Campus
SWOSU
Southwestern
Southwestern Oklahoma State University Weatherford Campus
Founded
1901
Wikipedia
Southwestern Oklahoma State University
Motto
The Focus is You!
Colors
navy blue, white
Academic Calendar
August to July (August - December; January-May; June-July)
Total FTE staff
550
Carnegie Classification
Master's Colleges & Universities: Larger Programs
Location and Contacts
Address
100 Campus Dr
Weatherford, Oklahoma, 73096-3001
United States
City population
11,000
Phone
5807726611
Fax
+1 (580) 774 3795