Cayetano Heredia Peruvian University: Statistics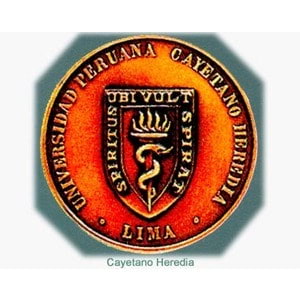 Quick Review
Acceptance rate

5%

Enrollment

4,500

Type

Non-profit

Funding

Private

Highest Degree

Doctorate

Website

www.cayetano.edu.pe
Acceptance rate & Admissions
| | |
| --- | --- |
| Acceptance Rate | 5% |
| Admissions Requirements | Yes, based on entrance examinations |
| Academic Calendar | Semesters |
| Enrollment | 4,500 |
| Full time employee | 1,250 |
| Student:staff ratio | 4:1 |
Tuition
| | Undergraduate | Graduate |
| --- | --- | --- |
| Local students | $11,250 | $8,750 |
| International students | $11,250 | $8,750 |
Cayetano Heredia Peruvian University has on-campus housing.
Programs and Degrees
Programs

Associate's degree

Bachelor's

Master's

Doctoral

Design

|

Arts

|

Humanities
–
+
–
–
Business

|

Politics

|

Social Sciences
–
+
–
–
Languages

|

Culture

|

Linguistics
–
–
–
–
Nursing

|

Health

|

Pharmacy

|

Medicine
–
+
+
+
Engineering

|

IT
–
–
–
–
Maths

|

Natural Sciences
–
+
+
+
Notable alumni
Carlos Bustamante

Born in

Peru

Years

1951-.. (age 71)

Occupations

chemist

molecular biologist

university teacher

biochemist

biophysicist

Biography

Carlos José Bustamante is a Peruvian-American scientist. He is a member of the National Academy of Sciences.

Patricia García Funegra

Born in

Peru

Years

1963-.. (age 59)

Occupations

physician

docent

researcher

Biography

Patricia Jannet García Funegra is a Peruvian professor of public and global health at Cayetano Heredia University. She originally trained as a clinician before focusing on research and public health. Her work also focuses on reproductive health, sexually transmitted diseases, and medical informatics. In 2016-17 García was the Minister of Health of Peru. She was the first Peruvian to be elected to the US National Academy of Medicine in 2016.

Javier Mariátegui

Born in

Peru

Years

1928-2008 (aged 80)

Biography

Javier Mariátegui Chiappe was a renowned Peruvian intellectual and psychiatrist. He was the last of the children of José Carlos Mariátegui and Anna Chiappe. Studied at the University of San Marcos where he also started teaching; he was also a founder of Cayetano Heredia University. He was also the founding director of the National Institute of Mental Health "Honorio Delgado - Hideyo Noguchi". He died in Lima.

Ariela Luna

Enrolled in Cayetano Heredia Peruvian University

Graduated with master's degree in public health

Occupations

physician

university teacher

politician

Biography

Ariela María de los Milagros Luna Florez is a Peruvian physician and anthropologist. She was her country's Minister of Development and Social Inclusion (MIDIS) from 29 October 2019 to 15 July 2020, during the government of Martín Vizcarra.

S. Patricia Becerra

Born in

Peru

Occupations

biochemist

researcher

Biography

S. Patricia Becerra is a biochemist specializing in the retina. She researches protein structure and function in relation to drug development for combating blindness. Becerra is a senior investigator at the National Eye Institute.
General info
Alternative names
UPCH
Universidad Peruana Cayetano Heredia
Founded
1961
Accreditation
Ministerio de Educación, Peru
Motto
Spiritus ubi Vult Spirat
The spirit spreads wherever it wants
Academic structure
Faculty of Medicine
Faculty of Sciences and Philosophy
Faculty of Stomatology
Faculty of Nursing
Faculty of Education
Faculty of Public Health
Faculty of Psychology
Faculty of Veterinary Medicine
Graduate School
Affiliations and memberships
Consorcio de Universidades
Red Peruana de Universidades (RPU)
Asamblea Nacional de Rectores de Peru (ANR)
Organización Universitaria Interamericana (OUI)
Centro Interuniversitario de Desarrollo (CINDA)
Location and Contacts
Address
San Martín de Porres 31
Lima, Lima
Peru
City population
9,675,000
Phone
+51 (1) 319 0000
Fax
+51 (1) 482 3435