Millersville University of Pennsylvania: Statistics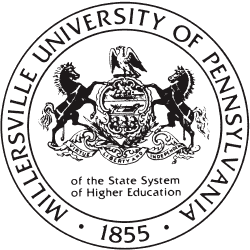 Quick Review
Acceptance rate

79%

Undergraduates

6,760

Graduates

1,023

Male:Female Ratio

40:60

Control

Public

Highest Degree

Doctor's degree

Website
Millersville University of Pennsylvania Acceptance rate and Admissions statistics
| | Total | Men | Women |
| --- | --- | --- | --- |
| Acceptance Rate | 79% | 76% | 81% |
| Applicants | 6,251 | 2,686 | 3,565 |
| Admissions | 4,955 | 2,054 | 2,901 |
| Freshmen enrolled full time | 1,288 | 548 | 740 |
| Freshmen enrolled part time | 46 | 22 | 24 |
1,290 students enrolled in some distance education courses.
645 enrolled exclusively in distance education.
SAT scores
Among admitted applicants
1,236 or 93%
submitted SAT
25% of them
had 980
or below
75% of them
had 1170
or below
Typical SAT scores of first-years in the Millersville University of Pennsylvania are 980-1170 (middle 50% range).
Admissions requirements
| | |
| --- | --- |
| SAT/ACT | Required |
| Secondary school GPA | Required |
| Secondary school record | Required |
| TOEFL | Required |
| College-preparatory program | Recommended |
| Recommendations | Recommended |
| Secondary school rank | Recommended |
| Formal demonstration of competencies | Neither required nor recommended |
| Other Tests | Neither required nor recommended |
Enrollment by race or ethnicity
| | |
| --- | --- |
| White | 5806 (75%) |
| Hispanic | 783 (10%) |
| Black or African American | 660 (8%) |
| Asian | 240 (3%) |
| Race or Ethnicity unknown | 99 (1%) |
| Two or more races | 88 (1%) |
| Nonresident Alien | 74 (1%) |
| American Indian or Alaska Native | 15 (0.2%) |
| Native Hawaiian or other Pacific Islander | 2 (0%) |
Costs per year: Tuition, Housing, Fees
Average aid awarded

$6,277

Students receiving aid

88%
Tuition and fees
| | Undergraduates | Graduates |
| --- | --- | --- |
| Tuition in-district | $9,570 | $9,288 |
| Tuition in-state | $9,570 | $9,288 |
| Tuition out-of-state | $19,290 | $13,932 |
| Fee in-district | $2,680 | $2,642 |
| Fee in-state | $2,680 | $2,642 |
| Fee out-of-state | $2,930 | $2,858 |
Room and board price
| | |
| --- | --- |
| Dormitory capacity | 2,233 |
| Combined charge for room and board | $12,980 |
| Room charge | $8,780 |
| Meal charge | $4,200 |
Millersville University of Pennsylvania Majors
| Major | Associate's degree | Bachelor's | Master's | Doctoral |
| --- | --- | --- | --- | --- |
| Business Administration and Management, General | | 185 | | |
| Social Work | | 76 | 71 | 10 |
| Nursing Science | | 130 | | |
| Speech Communication and Rhetoric | | 108 | | |
| Psychology, General | | 71 | 31 | |
| Industrial Technology & Technician | 54 | 44 | | |
| Biology & Biological Sciences, General | | 96 | | |
| Early Childhood Education and Teaching | | 64 | 9 | |
| Special Education and Teaching, General | | 61 | 2 | |
| Multi- & Interdisciplinary Studies, General | | 58 | | |
| English Language and Literature, General | | 39 | 10 | |
| Music, General | | 42 | | |
| Sociology | | 41 | | |
| Occupational Safety and Health Technology & Technician | | 39 | | |
| Computer and Information Sciences, General | | 36 | | |
| Political Science and Government, General | | 31 | | |
| Family Practice Nurse & Nursing | | | 29 | |
| History, General | | 23 | 4 | |
| Mathematics, General | | 19 | 8 | |
| Art & Art Studies, General | | 24 | 2 | |
| Reading Teacher Education | | | 23 | |
| Industrial Production Technologies & Technicians, Other | | 12 | 10 | |
| Crisis & Emergency & Disaster Management | | | 20 | |
| Social Sciences, Other | | 19 | | |
| Chemistry, General | | 19 | | |
| Education, General | | | 19 | |
| Junior High & Intermediate & Middle School Education and Teaching | | 16 | | |
| Geography | | 15 | | |
| Sport and Fitness Administration & Management | | | 15 | |
| Anthropology | | 13 | | |
| Geology & Earth Science, General | | 13 | | |
| Area Studies, Other | | 13 | | |
| Economics, General | | 11 | | |
| Physics, General | | 10 | | |
| Atmospheric Sciences and Meteorology, General | | 10 | | |
| Spanish Language and Literature | | 10 | | |
| Music Technology | | 10 | | |
| Allied Health Diagnostic, Intervention, and Treatment Professions, Other | | 9 | | |
| Design and Visual Communications, General | | 8 | | |
| Counselor Education & School Counseling and Guidance Services | | | 8 | |
| Education & Teaching of the Gifted and Talented | | | 8 | |
| Philosophy | | 7 | | |
| Foreign Languages and Literatures, General | | 1 | 3 | |
| Science Technologies & Technicians, Other | | | 4 | |
| Automation Engineer Technology & Technician | | 3 | | |
| Educational Leadership and Administration, General | | | 3 | |
| Oceanography, Chemical and Physical | | 1 | | |
| French Language and Literature | | | 1 | |
| German Language and Literature | | 1 | | |
| Superintendency and Educational System Administration | | | | 1 |
| Grand Total | 54 | 1,388 | 280 | 11 |
Total
Men
Women
Graduation rate
56%
53%
59%

Full-time retention rate - 77%
Part-time retention rate - 30%
Millersville University of Pennsylvania alumni
General info
| | |
| --- | --- |
| Founded | 1855 |
| Motto | Seize the Opportunity |
| Colors | black, gold |
| Academic Calendar | August to May (August - December; January-May). Also Summer pre-Session (May-June); Summer Sessions (June-July; July-August) |
| Total FTE staff | 899 |
| Carnegie Classification | Master's Colleges & Universities: Larger Programs |
Location and Contacts
Address
1 South George Street, Lyle Hall
Millersville, Pennsylvania, 17551-0302
United States
City population
8,000
Phone
7178714636
Fax
+1 (717) 872 3968