Institute of Business Administration Rankings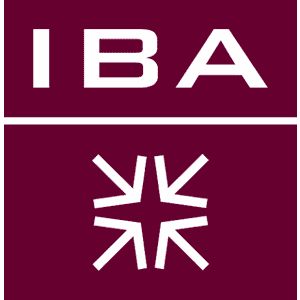 Quick Review
Acceptance rate

7%

Enrollment

3,500

Type

Non-profit

Funding

Public-private
partnership

Highest Degree

Doctorate

Website

Languages

English
Acceptance rate & Admissions
| | |
| --- | --- |
| Acceptance Rate | 7% |
| Admissions Requirements | Undergraduate, Higher Secondary Certificate with minimum 60% up to intermediate level, or 3 'A' levels, minimum one 'B' and two 'Cs'; Postgraduate, at least a Bachelor's degree from a reognized institution. |
| Academic Calendar | September to August |
| Enrollment | 3,500 |
| Full time employee | 150 |
| Student:staff ratio | 23:1 |
Publications & Citations
Institute of Business Administration majors
by publication & citation count
Annual publication & citation counts
| Year | Publications | Citations |
| --- | --- | --- |
| 1995 | 1 | 0 |
| 1996 | 1 | 0 |
| 1997 | 0 | 0 |
| 1998 | 0 | 0 |
| 1999 | 0 | 0 |
| 2000 | 0 | 0 |
| 2001 | 0 | 0 |
| 2002 | 0 | 0 |
| 2003 | 1 | 0 |
| 2004 | 2 | 2 |
| 2005 | 6 | 1 |
| 2006 | 4 | 1 |
| 2007 | 3 | 3 |
| 2008 | 8 | 5 |
| 2009 | 9 | 9 |
| 2010 | 15 | 8 |
| 2011 | 21 | 45 |
| 2012 | 29 | 51 |
| 2013 | 19 | 74 |
| 2014 | 24 | 104 |
| 2015 | 19 | 79 |
| 2016 | 29 | 95 |
| 2017 | 43 | 120 |
| 2018 | 37 | 137 |
| 2019 | 45 | 208 |
| 2020 | 60 | 377 |
| 2021 | 64 | 602 |
Tuition
| | |
| --- | --- |
| Local studetns | 92 500 to 180 500 (PKR) |
Institute of Business Administration has on-campus housing.
Programs and Degrees
Programs

Associate's degree

Bachelor's

Master's

Doctoral

Design

|

Arts

|

Humanities
–
–
–
–
Business

|

Politics

|

Social Sciences
–
+
+
–
Languages

|

Culture

|

Linguistics
–
–
–
–
Nursing

|

Health

|

Pharmacy

|

Medicine
–
–
–
–
Engineering

|

IT
–
–
–
–
Maths

|

Natural Sciences
–
+
+
+
| | |
| --- | --- |
| Bachelor's Degree | Accountancy, Business Administration, Computer Science, Economics, Finance, Mathematics, Social Sciences |
| Master's Degree/ M. Phil | Business Administration, Computer Science, Economics, Mathematics, Statistics |
| PhD | Computer Science, Economics, Mathematics, Statistics |
Notable alumni
Mamnoon Hussain

Born in

India

Years

1940-2021 (aged 81)

Occupations

politician

entrepreneur

Biography

Mamnoon Hussain was a Pakistani politician and industrialist who served as the 12th president of Pakistan from 2013 to 2018. He was first appointed Governor of Sindh in June 1999 by President Rafiq Tarar; but was removed from the post in October 1999 due to the 1999 military coup d'état. Hussain was then nominated for the presidency by the Pakistan Muslim League party (PML(N)) in July 2013 and was elected through an indirect presidential election. Hussain took over the presidency after an oath administered by the Chief Justice of Pakistan on 9 September 2013. Hussain maintained a low-key profile as President and his role was rarely seen in the nation's politics, although he was involved in a polio eradication program.

Asad Umer

Born in

Pakistan

Years

1961-.. (age 62)

Occupations

politician

businessperson

Biography

Asad Umar is a Pakistani politician who has been a member of the National Assembly of Pakistan since September 2013. He served as the Federal Minister for Planning, Development, Reforms and Special Initiatives, from 19 November 2019 to 10 April 2022.

Shaukat Aziz

Born in

Pakistan

Years

1949-.. (age 74)

Occupations

banker

financier

economist

politician

Biography

Shaukat Aziz is a Pakistani former banker and financier who served as 17th prime minister of Pakistan from 28 August 2004 to 15 November 2007, as well as the finance minister of Pakistan from 6 November 1999 to 15 November 2007. During his childhood he studied at St Patrick's High School, Karachi. Aziz graduated from the Institute of Business Administration in Karachi, and joined the corporate staff of the CitiBank Pakistan in 1969. He served in various countries' governments as CitiBank financier, and became executive vice-president of Citibank in 1999. After accepting a personal request by General Pervez Musharraf, Aziz returned to Pakistan from the United States to assume charge of the Finance Ministry as its finance minister while taking control of the country's economy. In 2004, Aziz was nominated by the Musharraf loyalist government led by Pakistan Muslim League (Q), to the position of prime minister after the resignation of Zafarullah Khan Jamali on 6 June 2004.

Ghias Khan

Occupations

business executive

Biography

Ghias Uddin Khan is a Pakistani businessman and entrepreneur who is the 4th and current President and Chief Executive Officer of Engro Corporation.
General info
Alternative names
IBA
بزنس ایڈمنسٹریشن انسٹی ٹیوٹ
Founded
1955
Accreditation
Higher Education Commission, Pakistan
Motto
Leadership and Ideas for Tomorrow
Location and Contacts
Address
University Road
Karachi, Sindh, 75270
Pakistan
City population
14,910,000
Phone
+92 (21) 111 422
Fax
+92 (21) 722 3921