Soochow University: Statistics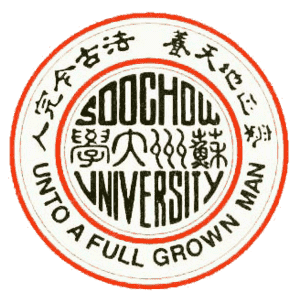 Quick Review
Enrollment

48,901

Type

Non-profit

Funding

Private

Highest Degree

Doctorate

Website

Languages

Chinese;English

Acceptance rate

41%*
* Soochow University is among the institutions that don't provide data on acceptance rates. This might happen because a university has programs where an applicant only needs to meet admission requirements to enroll and doesn't necessarily competes with others.
We estimate the above acceptance rate based on admission statistics of closely-ranked nearby universities with similar research profiles that do publish such data.
Acceptance rate & Admissions
| | |
| --- | --- |
| Admissions Requirements | National College Entrance Examination (Gaokao) |
| Academic Calendar | September to July (September - January; February-July) |
| Enrollment | 48,901 |
| Full time employee | 4,250 |
| Student:staff ratio | 12:1 |
Tuition
| | |
| --- | --- |
| International studetns | 18,000-42,000 per annum (CNY) |
Soochow University has financial aid programs.
Programs and Degrees
Programs

Associate's degree

Bachelor's

Master's

Doctoral

Design

|

Arts

|

Humanities
–
+
+
+
Business

|

Politics

|

Social Sciences
–
+
+
+
Languages

|

Culture

|

Linguistics
–
+
+
+
Nursing

|

Health

|

Pharmacy

|

Medicine
–
+
+
+
Engineering

|

IT
–
+
+
+
Maths

|

Natural Sciences
–
+
+
+
| | |
| --- | --- |
| Bachelor - Xueshi Xuewei | Architecture and Planning, Arts and Humanities, Economics, Engineering, Fine Arts, Information Sciences, Law, Management, Mathematics and Computer Science, Medicine, Natural Sciences, Performing Arts, Service Trades, Social Sciences |
| Master - Shuoshi Xuewei | Accountancy, Administration, Administrative Law, Animal Husbandry, Applied Linguistics, Architecture, Archiving, Art Criticism, Artificial Intelligence, Automation and Control Engineering, Automotive Engineering, Biochemistry, Biology, Biomedical Engineering, Biophysics, Bridge Engineering, Business Administration, Cell Biology, Chemical Engineering, Chemistry, Chinese, Cinema and Television, Civil Law, Commercial Law, Comparative Literature, Computer Science, Constitutional Law, Criminal Law, Curriculum, Dance, Design, Economics, Education, Educational Administration, Electronic Engineering, Embryology and Reproduction Biology, Energy Engineering, Engineering Management, English, Environmental Management, Ethics, Finance, Fine Arts, Fishery, Foreign Languages Education, Foreigners Education, French, Genetics, Government, Health Administration, History, Industrial Engineering, International Business, International Law, Japanese, Journalism, Landscape Architecture, Law, Library Science, Linguistics, Literature, Logic, Marine Biology, Materials Engineering, Mathematics, Mathematics Education, Mechanical Engineering, Medicine, Metallurgical Engineering, Microbiology, Midwifery, Molecular Biology, Music, Musicology, Native Language Education, Neurosciences, Nursing, Nutrition, Optical Technology, Pharmacology, Philosophical Schools, Philosophy, Philosophy of Education, Physical Education, Physics, Political Sciences, Psychology, Public Administration, Public Health, Publishing and Book Trade, Radiology, Road Engineering, Rural Planning, Russian, Science Education, Social and Preventive Medicine, Social Policy, Social Work, Sociology, Software Engineering, Statistics, Taxation, Technology Education, Telecommunications Engineering, Textile Technology, Theatre, Tourism, Town Planning, Toxicology, Translation and Interpretation, Transport Engineering, Vocational Education, Zoology |
| PhD - Boshi | Accountancy, Administrative Law, Applied Linguistics, Art Management, Business Education, Chinese, Civil Law, Classical Languages, Commercial Law, Comparative Literature, Constitutional Law, Criminal Law, Ethics, Finance, Fine Arts, Government, Higher Education, History of Law, International Law, Law, Linguistics, Literature, Philosophical Schools, Philosophy, Physical Education, Political Sciences, Private Administration, Regional Studies |
Notable alumni
Lynn Hung

Born in

China

Years

1981-.. (age 41)

Biography

Xiong Dailin, better known as Lynn Hung, is a Hong Kong-based fashion model and actress originally from mainland China.

Victor Gao

Born in

China

Years

1962-.. (age 60)

Enrolled in Soochow University

Studied in 1978-1980

Occupations

lawyer

pundit

interpreter

international relations scholar

Biography

Victor Zhikai Gao is a Chinese lawyer, academic and media spokesman for the Chinese Communist Party. He is the Vice President of the Beijing based Center for China and Globalization (CCG), and Chair Professor of Soochow University. He was formerly a translator for the CCP leader Deng Xiaoping.
General info
| | |
| --- | --- |
| Alternative names | 苏州大学 |
| Founded | 1899 |
| Accreditation | Ministry of Education |
| Motto | Unto A Full Grown Man |
| Colors | red, gray |
Location and Contacts
Address
178 Ganjiang E Road, Ping Jiang Qu
Suzhou, Jiangsu, 215006
China
City population
12,748,000
Phone
+86 (512) 6716 2455
Fax
+86 (512) 6716 7519