University of Saint Joseph Rankings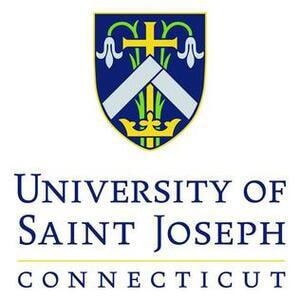 Quick Review
Religion

Roman Catholic

Gender

All female

Acceptance rate

77%

Undergraduates

904

Graduates

1,494

Male:Female Ratio

18:82

Control

Private
not-for-profit

Highest Degree

Doctor's degree

Website
University of Saint Joseph Acceptance rate and Admissions statistics
| | Total | Men | Women |
| --- | --- | --- | --- |
| Acceptance Rate | 77% | 68% | 80% |
| Applicants | 1,646 | 468 | 1,178 |
| Admissions | 1,261 | 320 | 941 |
| Freshmen enrolled full time | 202 | 64 | 138 |
| Freshmen enrolled part time | 2 | 1 | 1 |
324 students enrolled in some distance education courses.
172 enrolled exclusively in distance education.
SAT scores
Among admitted applicants
180 or 88%
submitted SAT
25% of them
had 1000
or below
75% of them
had 1230
or below
Typical SAT scores of first-years in University of Saint Joseph are 1000-1230 (middle 50% range).
Admissions requirements
| | |
| --- | --- |
| Recommendations | Required |
| Secondary school GPA | Required |
| Secondary school record | Required |
| TOEFL | Required |
| College-preparatory program | Recommended |
| SAT/ACT | Considered but not required |
| Formal demonstration of competencies | Neither required nor recommended |
| Other Tests | Neither required nor recommended |
| Secondary school rank | Neither required nor recommended |
Enrollment by race or ethnicity
| | |
| --- | --- |
| White | 1485 (62%) |
| Black or African American | 281 (12%) |
| Hispanic | 281 (12%) |
| Asian | 146 (6%) |
| Race or Ethnicity unknown | 114 (5%) |
| Two or more races | 57 (2%) |
| Nonresident Alien | 26 (1%) |
| Native Hawaiian or other Pacific Islander | 4 (0.2%) |
| American Indian or Alaska Native | 2 (0.1%) |
Costs per year: Tuition, Housing, Fees
Average costs by household income
| | |
| --- | --- |
| <$30K | $17,907 |
| $30-48K | $15,800 |
| $48-75K | $22,607 |
| $75-110K | $23,186 |
| $110K+ | $24,936 |
Tuition and fees
| | Undergraduates | Graduates |
| --- | --- | --- |
| Tuition in-district | $38,482 | $14,202 |
| Tuition in-state | $38,482 | $14,202 |
| Tuition out-of-state | $38,482 | $14,202 |
| Fee in-district | $1,804 | $882 |
| Fee in-state | $1,804 | $882 |
| Fee out-of-state | $1,804 | $882 |
Room and board price
| | |
| --- | --- |
| Dormitory capacity | 412 |
| Combined charge for room and board | $11,771 |
| Room charge | $6,631 |
| Meal charge | $5,140 |
University of Saint Joseph Majors
| Major | Bachelor's | Master's | Doctoral |
| --- | --- | --- | --- |
| Registered Nursing & Registered Nurse | 73 | 60 | |
| Social Work | 26 | 66 | |
| Pharmacy | | | 82 |
| Special Education and Teaching, General | 5 | 67 | |
| Education, General | | 60 | |
| Biology & Biological Sciences, General | 20 | 32 | |
| Curriculum and Instruction | | 34 | |
| Physician Assistant | | 32 | |
| Nutrition Sciences | | 28 | |
| Educational & Instructional Technology | | 22 | |
| Psychology, General | 21 | | |
| Early Childhood Education and Teaching | | 20 | |
| Business Administration and Management, General | 2 | 17 | |
| Public Health, General | 19 | | |
| Applied Behavior Analysis | | 19 | |
| Counseling Psychology | | 18 | |
| Chemistry, General | 7 | 8 | |
| Secondary Education and Teaching | | 15 | |
| Foods, Nutrition, and Wellness Studies, General | 13 | | |
| Biochemistry | | 9 | |
| Counselor Education & School Counseling and Guidance Services | | 8 | |
| Accounting | 5 | | |
| Marriage and Family Therapy & Counseling | | 4 | |
| Child Development | 2 | | |
| Corrections and Criminal Justice, Other | 2 | | |
| Art History, Criticism and Conservation | 2 | | |
| Special Education and Teaching, Other | | 2 | |
| Nursing Practice | | | 2 |
| English Language and Literature, General | 1 | | |
| History, General | 1 | | |
| Women's Studies | 1 | | |
| Mathematics, General | 1 | | |
| Reading Teacher Education | | 1 | |
| Grand Total | 201 | 522 | 84 |
Total
Women
Graduation rate
55%
55%

Full-time retention rate - 79%
Publications & Citations
Publication count by topic
| | |
| --- | --- |
| Medicine | |
| Psychology | |
| Sociology | |
| Biology | |
| Computer science | |
| Political science | |
| Chemistry | |
| Art | |
| Philosophy | |
| Business | |
| Geography | |
| Engineering | |
| Materials science | |
| Environmental science | |
| Economics | |
| Geology | |
| Physics | |
| History | |
| Mathematics | |
Topical rankings by citation count
| Discipline | World Rank | Citations |
| --- | --- | --- |
| Art | 2478 | 5 |
| Psychology | 2551 | 1,070 |
| Sociology | 2679 | 123 |
| Medicine | 2773 | 1,300 |
| Political science | 3598 | 19 |
| Biology | 3731 | 652 |
| Business | 3804 | 65 |
| Materials science | 3861 | 229 |
| Environmental science | 3889 | 74 |
| Computer science | 3964 | 255 |
| Geology | 4511 | 2 |
| Economics | 4681 | 8 |
| Engineering | 4865 | 21 |
| Geography | 4872 | 8 |
| Chemistry | 5062 | 83 |
| Physics | 5344 | 2 |
Annual publication & citation counts
| Year | Publications | Citations |
| --- | --- | --- |
| 1992 | 1 | 4 |
| 1993 | 0 | 6 |
| 1994 | 0 | 6 |
| 1995 | 0 | 4 |
| 1996 | 0 | 8 |
| 1997 | 0 | 4 |
| 1998 | 0 | 9 |
| 1999 | 0 | 0 |
| 2000 | 2 | 5 |
| 2001 | 0 | 0 |
| 2002 | 1 | 0 |
| 2003 | 0 | 1 |
| 2004 | 0 | 0 |
| 2005 | 0 | 1 |
| 2006 | 0 | 0 |
| 2007 | 0 | 0 |
| 2008 | 5 | 1 |
| 2009 | 1 | 1 |
| 2010 | 7 | 6 |
| 2011 | 4 | 4 |
| 2012 | 25 | 19 |
| 2013 | 51 | 58 |
| 2014 | 62 | 138 |
| 2015 | 54 | 234 |
| 2016 | 82 | 386 |
| 2017 | 96 | 528 |
| 2018 | 78 | 576 |
| 2019 | 83 | 814 |
| 2020 | 103 | 1122 |
General info
| | |
| --- | --- |
| Alternative names | USJ |
| Founded | 1932 |
| Wikipedia | University of Saint Joseph (Connecticut) |
| Colors | blue, gold |
| Academic Calendar | Semesters |
| Total FTE staff | 599 |
| Carnegie Classification | Master's Colleges & Universities: Larger Programs |
Location and Contacts
Address
1678 Asylum Avenue
West Hartford, Connecticut, 06117
United States
City population
63,000
Phone
8602324571
Fax
+1 (860) 233 5695