CUNY City College Rankings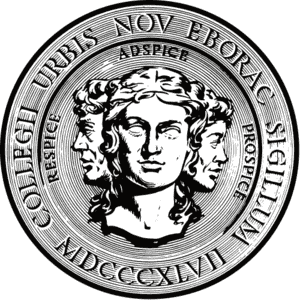 Quick Review
Acceptance rate

46%

Undergraduates

13,030

Graduates

2,786

Male:Female Ratio

46:54

Control

Public

Highest Degree

Doctor's degree

Website
CUNY City College Acceptance rate and Admissions statistics
| | Total | Men | Women |
| --- | --- | --- | --- |
| Acceptance Rate | 46% | 37% | 55% |
| Applicants | 30,013 | 14,316 | 15,697 |
| Admissions | 13,953 | 5,343 | 8,610 |
| Freshmen enrolled full time | 2,054 | 985 | 1,069 |
| Freshmen enrolled part time | 38 | 16 | 22 |
175 students enrolled in some distance education courses.
17 enrolled exclusively in distance education.
SAT scores
Among admitted applicants
2,010 or 96%
submitted SAT
25% of them
had 1040
or below
75% of them
had 1250
or below
Typical SAT scores of first-years in CUNY City College are 1040-1250 (middle 50% range).
Admissions requirements
| | |
| --- | --- |
| College-preparatory program | Required |
| SAT/ACT | Required |
| Secondary school GPA | Required |
| Secondary school record | Required |
| TOEFL | Required |
| Secondary school rank | Recommended |
| Formal demonstration of competencies | Neither required nor recommended |
| Other Tests | Neither required nor recommended |
| Recommendations | Neither required nor recommended |
Enrollment by race or ethnicity
| | |
| --- | --- |
| Hispanic | 5786 (37%) |
| Asian | 3599 (23%) |
| White | 2655 (17%) |
| Black or African American | 2448 (15%) |
| Nonresident Alien | 933 (6%) |
| Two or more races | 345 (2%) |
| Native Hawaiian or other Pacific Islander | 24 (0.2%) |
| American Indian or Alaska Native | 13 (0.1%) |
Costs per year: Tuition, Housing, Fees
Average aid awarded

$10,059

Students receiving aid

87%
Tuition and fees
| | Undergraduates | Graduates |
| --- | --- | --- |
| Tuition in-district | $6,930 | $11,090 |
| Tuition in-state | $6,930 | $11,090 |
| Tuition out-of-state | $14,880 | $20,520 |
| Fee in-district | $410 | $312 |
| Fee in-state | $410 | $312 |
| Fee out-of-state | $410 | $312 |
Room and board price
| | |
| --- | --- |
| Dormitory capacity | 589 |
| Room charge | $12,710 |
CUNY City College Majors
| Major | Bachelor's | Master's | Doctoral |
| --- | --- | --- | --- |
| Psychology, General | 335 | 10 | |
| Mechanical Engineering | 148 | 23 | 5 |
| Biology & Biological Sciences, General | 140 | 7 | |
| Fine & Studio Arts, General | 133 | 3 | |
| Liberal Arts and Sciences & Liberal Studies | 129 | | |
| English Language and Literature, General | 115 | 5 | |
| Economics, General | 96 | 22 | |
| Electrical and Electronics Engineering | 80 | 28 | 7 |
| Civil Engineering, General | 74 | 28 | 4 |
| Chemical Engineering | 83 | 7 | 7 |
| Computer Science | 78 | 13 | |
| Communication, General | 88 | | |
| Political Science and Government, General | 87 | | |
| Elementary Education and Teaching | 65 | 18 | |
| Biomedical Sciences, General | 82 | | |
| Bilingual and Multilingual Education | 32 | 49 | |
| International Relations and Affairs | 72 | 8 | |
| Business Administration and Management, General | 74 | | |
| Teaching English as a Second or Foreign Language & ESL Language Instructor | | 69 | |
| Sociology | 64 | 3 | |
| Architecture | 45 | 16 | |
| Bioengineering and Biomedical Engineering | 33 | 23 | 3 |
| Computer Engineering, General | 49 | 2 | |
| Drama and Dramatics & Theatre Arts, General | 40 | | |
| Early Childhood Education and Teaching | 20 | 18 | |
| Biochemistry | 29 | 4 | |
| Mathematics, General | 19 | 14 | |
| Physician Assistant | 4 | 29 | |
| History, General | 24 | 8 | |
| Public Relations, Advertising, and Applied Communication | | 32 | |
| Sustainability Studies | | 29 | |
| Cinematography and Film & Video Production | 28 | | |
| Applied Mathematics, General | 26 | | |
| Environmental & Environmental Health Engineering | 20 | 4 | |
| Education & Teaching of Individuals in Junior High & Middle School Special Education | | 24 | |
| Ethnic, Cultural Minority, Gender, and Group Studies, Other | 23 | | |
| Music Performance, General | 23 | | |
| Chemistry, General | 14 | 7 | |
| Romance Languages, Literatures, and Linguistics, General | 21 | | |
| Physics, General | 16 | 4 | |
| Film & Cinema & Video Studies | | 20 | |
| Music, General | 19 | | |
| Anthropology | 19 | | |
| Teacher Education and Professional Development, Specific Subject Areas, Other | | 19 | |
| Philosophy | 18 | | |
| Geology & Earth Science, General | 10 | 8 | |
| Creative Writing | | 18 | |
| Clinical Psychology | | 5 | 11 |
| Art Teacher Education | | 15 | |
| Environmental Science | 14 | | |
| Spanish Language Teacher Education | | 13 | |
| Linguistics | | 13 | |
| Landscape Architecture | | 11 | |
| Information Science & Studies | | 11 | |
| Art History, Criticism and Conservation | | 11 | |
| Educational Leadership and Administration, General | | 11 | |
| City & Urban, Community and Regional Planning | | 11 | |
| Digital Communication and Media & Multimedia | 10 | | |
| Public Administration | | 10 | |
| Mental Health Counseling & Counselor | | 9 | |
| Education & Teaching of Individuals in Elementary Special Education Programs | | 9 | |
| American & United States Studies & Civilization | | 8 | |
| Music Technology | 8 | | |
| Social Studies Teacher Education | | 7 | |
| Mathematics Teacher Education | | 7 | |
| Biotechnology | 5 | 1 | |
| Education & Teaching of Individuals in Secondary Special Education Programs | | 6 | |
| Reading Teacher Education | | 6 | |
| Architectural and Building Sciences & Technology | | 5 | |
| Jazz & Jazz Studies | 1 | 3 | |
| Digital Arts | | 4 | |
| Science Teacher Education & General Science Teacher Education | | 4 | |
| Biology Teacher Education | | 3 | |
| Spanish Language and Literature | | 3 | |
| Physics Teacher Education | | 2 | |
| English & Language Arts Teacher Education | | 2 | |
| Chemistry Teacher Education | | 2 | |
| Earth Science Teacher Education | | 1 | |
| Grand Total | 2,513 | 765 | 37 |
Total
Men
Women
Graduation rate
56%
51%
61%

Full-time retention rate - 84%
Part-time retention rate - 77%
Publications & Citations
Publication count by topic
| | |
| --- | --- |
| Materials science | |
| Chemistry | |
| Computer science | |
| Mathematics | |
| Physics | |
| Psychology | |
| Biology | |
| Environmental science | |
| Medicine | |
| Engineering | |
| Sociology | |
| Political science | |
| Geology | |
| Geography | |
| History | |
| Economics | |
| Business | |
| Art | |
| Philosophy | |
Topical rankings by citation count
| Discipline | World Rank | Citations |
| --- | --- | --- |
| Geography | 464 | 7,457 |
| Environmental science | 482 | 15,259 |
| Art | 502 | 343 |
| Physics | 604 | 29,994 |
| Materials science | 621 | 38,933 |
| Mathematics | 651 | 19,971 |
| Philosophy | 705 | 288 |
| Computer science | 707 | 26,289 |
| Political science | 734 | 1,880 |
| Sociology | 776 | 3,546 |
| Psychology | 783 | 21,054 |
| History | 802 | 199 |
| Geology | 811 | 4,087 |
| Engineering | 874 | 6,991 |
| Chemistry | 898 | 37,256 |
| Economics | 1175 | 2,392 |
| Biology | 1213 | 20,309 |
| Medicine | 1331 | 11,343 |
| Business | 1595 | 1,169 |
Annual publication & citation counts
| Year | Publications | Citations |
| --- | --- | --- |
| 1990 | 82 | 913 |
| 1991 | 94 | 1081 |
| 1992 | 99 | 1124 |
| 1993 | 79 | 1133 |
| 1994 | 85 | 1246 |
| 1995 | 85 | 1482 |
| 1996 | 88 | 1625 |
| 1997 | 93 | 1544 |
| 1998 | 88 | 1795 |
| 1999 | 86 | 1903 |
| 2000 | 97 | 2042 |
| 2001 | 103 | 2413 |
| 2002 | 74 | 2673 |
| 2003 | 115 | 3288 |
| 2004 | 141 | 3501 |
| 2005 | 170 | 4314 |
| 2006 | 179 | 4982 |
| 2007 | 192 | 5347 |
| 2008 | 223 | 6243 |
| 2009 | 293 | 6779 |
| 2010 | 374 | 7710 |
| 2011 | 339 | 9718 |
| 2012 | 403 | 11094 |
| 2013 | 502 | 13928 |
| 2014 | 511 | 15626 |
| 2015 | 551 | 17436 |
| 2016 | 537 | 19225 |
| 2017 | 563 | 20443 |
| 2018 | 562 | 20639 |
| 2019 | 484 | 24413 |
| 2020 | 493 | 26680 |
General info
Alternative names
City College
City College of New York
CCNY
City
Founded
1847
Wikipedia
City College of New York
Motto
Respice, Adspice, Prospice
Look back, look at and look ahead
Colors
lavender, black
Academic Calendar
August to May. Also Summer Session (June - August)
Total FTE staff
1,972
Carnegie Classification
Master's Colleges & Universities: Larger Programs
Location and Contacts
Address
160 Convent Ave
New York, New York, 10031
United States
City population
8,399,000
Phone
2126507000
Fax
+1 (212) 650 7680