Tianjin University: Statistics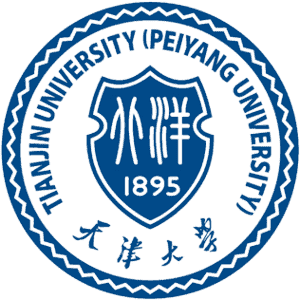 Quick Review
Enrollment

35,370

Type

Non-profit

Funding

Public-private
partnership

Highest Degree

Bachelor

Website

Languages

Chinese;English

Acceptance rate

43%*
* Tianjin University is among the institutions that don't provide data on acceptance rates. This might happen because a university has programs where an applicant only needs to meet admission requirements to enroll and doesn't necessarily competes with others.
We estimate the above acceptance rate based on admission statistics of closely-ranked nearby universities with similar research profiles that do publish such data.
Acceptance rate & Admissions
| | |
| --- | --- |
| Admissions Requirements | Graduation from senior middle school and National College Entrance Examination |
| Academic Calendar | September to July (September - January; February-July) |
| Enrollment | 35,370 |
| Full time employee | 1,250 |
| Student:staff ratio | 28:1 |
Tuition
| | |
| --- | --- |
| International studetns | 16,000-55,000 per annum (CNY) |
Tianjin University has financial aid programs and on-campus housing.
Programs and Degrees
Programs

Associate's degree

Bachelor's

Master's

Doctoral

Design

|

Arts

|

Humanities
–
+
–
–
Business

|

Politics

|

Social Sciences
–
+
–
–
Languages

|

Culture

|

Linguistics
–
–
–
–
Nursing

|

Health

|

Pharmacy

|

Medicine
–
+
–
–
Engineering

|

IT
–
+
–
–
Maths

|

Natural Sciences
–
+
–
–
| | |
| --- | --- |
| Bachelor - Xueshi Xuewei | Administration, Applied Chemistry, Applied Physics, Architecture, Automation and Control Engineering, Biological and Life Sciences, Chemical Engineering, Chemistry, Chinese, Computer Science, Economics, Education, Engineering, English, Health Sciences, Law, Marine Science and Oceanography, Mathematics, Mechanical Engineering, Microelectronics, Pharmacology, Software Engineering |
| Master - Shuoshi Xuewei | Applied Chemistry, Bioengineering, Biomedical Engineering, Chemical Engineering, Chinese, Data Processing, Design, Economics, Engineering, Fine Arts, Food Science, Geology, Law, Marine Science and Oceanography, Mathematics, Microelectronics, Pharmacy, Philosophy, Physics, Software Engineering |
| PhD - Boshi | Applied Chemistry, Applied Physics, Architecture, Bioengineering, Biology, Biomedical Engineering, Biophysics, Chemical Engineering, Chemistry, Civil Engineering, Computer Science, Education, Electrical Engineering, Electronic Engineering, Engineering, Environmental Engineering, Marine Engineering, Materials Engineering, Mathematics, Mechanical Engineering, Mechanics, Naval Architecture, Optics, Public Administration, Software Engineering, Technology, Town Planning, Water Management |
Notable alumni
Xu Zhimo

Born in

China

Years

1897-1931 (aged 34)

Occupations

translator

writer

poet

Biography

Xu Zhimo was a Chinese romantic poet who strove to loosen Chinese poetry from its traditional forms and to reshape it under the influences of Western poetry and the vernacular Chinese language. He is considered one of the most important figures of modern Chinese poetry.

Ma Xingrui

Born in

China

Years

1959-.. (age 63)

Occupations

engineer

aerospace engineer

politician

Biography

Ma Xingrui is a Chinese politician and aerospace engineer who is the Communist Party Secretary of Xinjiang. Prior to that, he had served as the Vice Minister of Industry and Information Technology, Head of the Political and Legal Affairs Commission of Guangdong, Communist Party Secretary of Shenzhen, Deputy Party Secretary of Guangdong, and Governor of Guangdong. Ma is a full member of the 18th Central Committee of the Chinese Communist Party.

Shohrat Zakir

Born in

China

Years

1953-.. (age 69)

Occupations

politician

governor

Biography

Shohrat Zakir is an ethnic Uyghur politician of China and the former Chairman of the Xinjiang Uyghur Autonomous Region and the Chinese Communist Party Deputy Committee Secretary of Xinjiang from 2014 to 2021. Since October 2017, he is the member of the Central Committee of the Chinese Communist Party. He was born in Yining (Ghulja). He went to Tianjin University. He was the former Mayor of Ürümqi. He studied computer science in Hubei Province.

Ma Yinchu

Born in

China

Years

1882-1982 (aged 100)

Enrolled in Tianjin University

Studied in 1901-1906

Occupations

economist

politician

Biography

Ma Yinchu was a prominent Chinese economist. He was the father of China's family planning.

Zhang Tailei

Born in

China

Years

1898-1927 (aged 29)

Biography

Zhang Tailei was the leader of the Guangzhou Uprising, during which he was killed.

Shu-tian Li

Years

1900-1988 (aged 88)

Biography

Shu-tian Li was a Chinese-American hydraulic engineer. After receiving a Ph.D. degree in engineering and economics from Cornell University in 1926, Li returned to China to assume a professorship at the Peiyang University. He became the executive officer of Northern China Hydraulic Commission in 1928. He was a founder of the Chinese Hydraulic Engineering Society and served as its deputy president and then president for six terms. Later he was appointed to lead the Yellow River Commission.

Feng Fei

Born in

China

Years

1962-.. (age 60)

Biography

Feng Fei is a Chinese politician, serving since December 2020 as the Governor of Hainan Province.

Zeng Yangfu

Born in

China

Years

1898-1969 (aged 71)

Biography

Zeng Xianhao was a Chinese-born politician better known by the courtesy name Zeng Yangfu (曾养甫). He was a native of Pingyuan County, Guangdong. Zeng served the Nationalist government as Mayor of Guangzhou from 1936 to 1938. He later led the Ministry of Transportation and Communications from 1942 to 1945.
General info
Alternative names
TJU
天津大学
Founded
1895
Accreditation
Ministry of Education
Motto
Seeking Truth from Facts
Location and Contacts
Address
92 Weijin Road, Nankai District
Tianjin, Tianjin, 300072
China
City population
13,866,000
Phone
+86 (22) 2740 5474
Fax
+86 (22) 2740 1819